Introducing... RDGLDGRN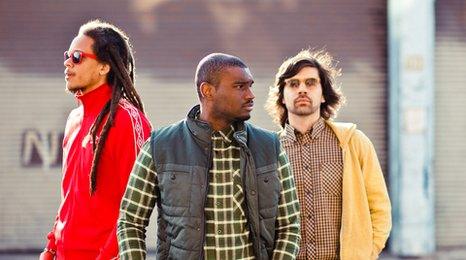 If you are wondering, it's pronounced Red-Gold-Green.
Each colour is also their individual names and the only colour of clothing they wear. At least it's easy to know which one is which.
"We couldn't come up with a name, so since he is Green and he's Red and I'm Gold, let's just go Red Gold Green," they explain.
"We took out the vowels because we wanted it to look as stupid as possible," jokes Green.
RDGLDGRN: The facts
What: Hip-hop indie rock trio from Washington DC
Download: Million Fans
Live: Reading and Leeds festival
They admit it is confusing when you first see the name but say it's a great conversation starter.
"Someone on Twitter is like, 'This band name is awful' and we're like, 'You know what, I agree it sucks'," says Gold.
"Then they are like, 'Oh my God, someone from the band has responded. Wait, I actually like their music'. So honestly it leads to good things."
Their sound fuses hip-hop with indie rock and what they describe as the "X factor" - the go-go beat - which originated from their native Washington DC in the 1970s.
"Go Go's amazing," says Gold. "It has roots in funk and a tonnes of African influence as far as heavy drumming and percussion goes.
"It's just something that we were around growing up over there that influences our music heavily," adds Green.
They released an EP earlier this year, which attracted the interest of one of music's living legends, Dave Grohl.
"We had sent the track I Love Lamp to him via our label. He was interested in drumming on it," says Red.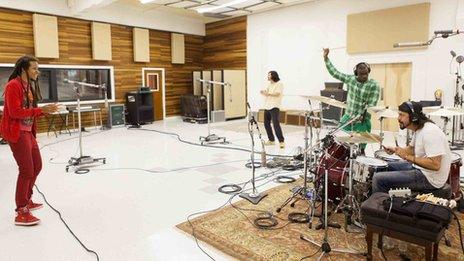 The band went to record their debut album at Sound City Studios in LA, where the Foo Fighters frontman was making a documentary.
"That day he showed up, we go into the control room and he's talking to one of our engineers," explains Gold.
"He's like 'Hi I'm Dave', we're like, 'Dude we know who you are, we kind of love you, everyone knows who you are'."
They showed him one track, which he drummed on and was clearly so impressed he ended up drumming on the rest of the album.
If that wasn't enough, Daft Punk contributor Pharrell Williams put his vocals to one of their songs.
"It's hard to put together that these people you listened to in your own room for so many years, that they are interested in working with you now," says Red.
They've played a handful of gigs in the UK, including the Great Escape festival in Brighton, and are returning towards the end of the summer.
They say they hope to have their untitled debut album out later in the year.
Follow @BBCNewsbeat on Twitter