Introducing... Jagwar Ma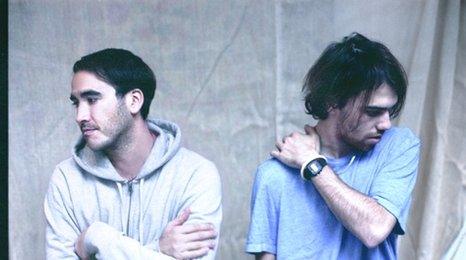 When you can already count one of the UK's biggest bands, Foals, as fans it can't be a bad start.
Jono Ma and Gabriel Winterfield make up the Sydney duo Jagwar Ma and they've just been on the road with the Oxford band.
"I think we are fuelled by inspiration by playing with people like Foals," explains Jono.
Jagwar Ma: the facts
What: Psych-rock-pop duo from Sydney, Australia
For fans of: Tame Impala, Temples, Stone Roses
Download: The Throw
Live: Field Day and Great Escape Festivals plus two UK headline dates
"Just seeing people respond to the music, I think all of them are really talented."
Jono's brother Dave Ma has worked with Foals for years on their music videos and photography.
It gave Jono the chance to meet the band and work in the studio with them.
He then sent early Jagwar Ma demos to Foals frontman Yannis Philippakis.
"He really loved it so once we put out the music he was behind from the beginning," explains Jono.
The two bands will reunite for the Ibiza Rocks closing party in September.
Danceable pop
Jagwar Ma wasn't the pair's main focus to start with, they were both in different bands at the time.
"I was on the side making a whole bunch of tracks," Jono says.
"I guess I was trying to reference elements of 50s and 60s R&B and soul but kind of make it electronic and danceable.
I think we are fuelled by inspiration by playing with people like Foals
"Meanwhile Gab was writing these sort of garage rock pop songs and he came to me to produce a bunch of tracks for him."
Jono took the opportunity to get Gabriel's vocals on his music instead and Jagwar Ma was born.
They went to record in a place Jono describes as "absolutely bizarre".
It was a studio above a disused convent in the French countryside.
"It's like a failed industrial experiment of a building, this agricultural city in rural France 200 years ago that was never realised," Jono says.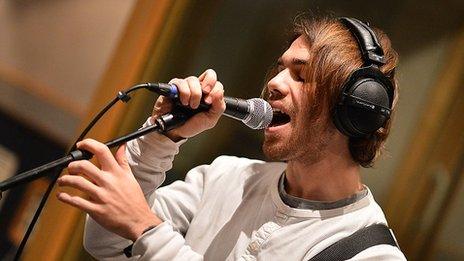 "It was a school then it is was a convent, now this guy is trying to turn it into a studio and art space and there's a massive hall where they have these massive raves."
'Expectations low'
Jagwar Ma's debut album Howlin will be released on 10 June and the band will also be playing dates across the UK this summer.
Before that, they will support The xx on tour in their native Australia, which will be another huge platform for them.
Despite such great support among their peers and the music press, they are not setting themselves any high goals.
"I think there is something interesting trying to keep a level of humbleness or just keeping expectations low and making music we enjoy and see what happens."
Follow @BBCNewsbeat on Twitter