Introducing… The 1975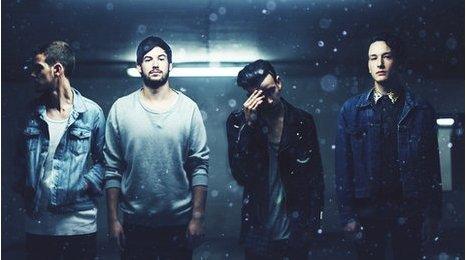 Even by its own historic high standards, musically Manchester has had a strong start to 2013.
Dutch Uncles and Everything Everything have already released critically lauded new albums. The Courteeners scored a chart hit with Anna.
This week, sophisticated pop duo Hurts release their second album Exile.
Four guys based in south Manchester, The 1975, aren't technically a new band but they could be big breakout stars from the city this year.
'Underground'
They say they've been playing together in punk groups in the city for almost 10 years.
"We got very used to being in the scene of underground Manchester bands where the world of main stream radio and media seems a genuine lifetime away," says singer and guitarist Matthew Healy.
He's joined in the band by guitarist Adam Hann, drummer George Daniel and bass player Ross MacDonald.
THE 1975, the facts
What: Anthemic Manchester indie rock
For fans of: Bombay Bicycle Club, Talking Heads, Two Door Cinema Club
Download: Chocolate
Live: Playing Manchester and London in September 2013
The 23-year-old frontman says it can be a challenge being a new band from Manchester, with all the heritage which goes with it.
"It's hard being a band from Manchester - a lot of bands just use it as a sort of badge of honour," he explains.
"It's a very tribal attitude towards music. We have never done that. We've never been a Manchester band for being the sake of being a Manchester band.
"We've never chased the coat tails of The Smiths or Joy Division."
'Very busy'
The foursome have spent a lot of time away from home already this year. Right now they're entertaining crowds at Texas' new music showcase festival South By South West.
Having already played a headline UK tour they've lined up a string of summer festival appearances and their biggest headline shows to date in September.
He came along and said, 'I really want to work on your record, I think it could be a record which could definite both of our careers'
"2013's started very busy and positively," he says softly. "The amount of people showing support has been crazy. It's been a really humbling time."
Earlier this month they released their third EP, Music For Cars. A full debut album is on its way in early summer.
For that album they've worked with someone outside the band for the first time - Arctic Monkeys and Foals producer Mike Crossey.
"He came along and said, 'I really want to work on your record, I think it could be a record which could define both of our careers'," says Healy.
"When you've got someone of that stature saying that it's hard to ignore it."