Introducing... Mikill Pane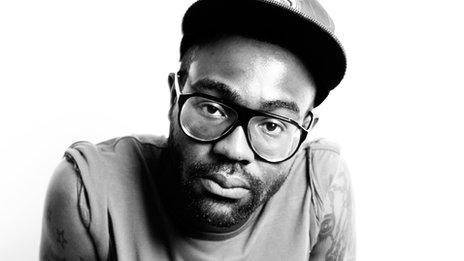 Rihanna and Jay-Z may occasionally buck the trend by taking public transport to their gigs but ordinarily most artists turn up to their shows in a tour bus, a limousine or battered van.
London MC and artist Mikill Pane has other ideas.
"If there was some way to do it, I'd love to tour the UK on a bicycle," he says. "That'd be really cool."
He may have signed a deal with a major label and been tipped by critics for a breakthrough in 2013, but this harks back to the nights he'd spend playing London's open night, live music circuit.
"My DJ and I, Will Power, used to cycle to a lot of gigs," he explains. "Coming back in the pouring rain or getting to a gig sweating, we'd always love the gig.
"It gets your pulse racing, it gets the adrenaline going. I'd cycle to more gigs if I could."
Sheeran friendship
To be honest though, Pane's not having to rely on pedal power to get him to his gigs now.
Going back to the start, music wasn't always Pane's main focus.
MIKILL PANE, the facts
What: Poetic pop from London MC
For fans of: Ed Sheeran, The Streets, Example
Download: Good Feeling
"I first started writing poetry and prose when I was a young boy. I wasn't really interested in music too much until I left school.
"I started rapping almost out of desperation to be heard."
He joined a rap group, then left. Around the age of 21 he decided going his own way was the best way. Out playing gigs, he met Ed Sheeran. The pair are now good friends.
You may have seen Pane on stage with The A Team star at places like Latitude festival, a couple of years ago.
"His meteoric rise, I saw, literally, just as the accent started," says Pane.
The reason that Ed and I are such good friends is that we are quite alike
"When I first met Ed he had this unmistakable buzz about him. It wasn't one of those ones where I saw it and couldn't understand why. I fully understand why. The first time I saw Ed perform I was blown away.
"The reason that Ed and I are such good friends is that we are quite alike. We've both seen that with hard work, and the utmost self belief, without sounding cheesy, you can achieve what you like."
Debut album
Pane's first steps towards what he hopes are Sheeran levels of stardom are with his new single, summery pop track Good Feeling out on 18 March.
An album, Blame Miss Barclay, will arrive at the end of the summer.
"I don't want to be a superstar or anything," he says, discussing his ambition. "I just crave critical acclaim.
"A couple of awards would be nice. A Mercury would be amazing, an Ivor Novello would be amazing.
"Just for anyone who buys the album or sees me live for people to say, 'That guy is good at what he does' because it's pretty much the only thing I think I'm good at."