Introducing… Palma Violets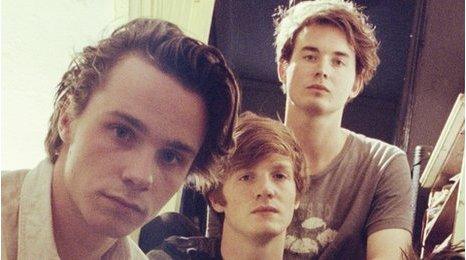 Take a walk down Lambeth Road in south London, past the corner stores and dingy rail arches and you'll find a building called Studio 180.
"If you think of what a really trendy squat would look like," says Palma Violets' singer and bassist Chilli Jesson.
"It's not a squat - it's a hub for artists.
"It's loads of people being people who're drawing, taking photos," cuts in guitarist, Sam Fryer.
"The walls are decorated with lots of strange paintings.
"I spent the night there once," he recalls, shuddering.
"It was a horrible experience. The taxidermy are dead, but the mice and the rats are alive."
Band's HQ
For London foursome Palma Violets it's an important place.
Palma Violets, the facts
What: Growling indie rock from London
For fans of: The Libertines, The Vaccines, The Strokes
Download: Best Of Friends
Live: On tour throughout the UK
It's this salubrious den where the band rehearsed - practically lived - and played their first live show back at the start of 2012.
"Our first gig was one of the funniest nights of my life," recalls Sam.
"Ten people came down at eight o' clock to come and watch us. Another 10 came at 12 so we ended up having two shows.
"We had about five songs. One of which was a 10-minute cover of Hey Joe."
Record deal
Things have come a long way since then.
Their regular gatherings in the basement attracted attention from A&Rs and the music press.
The gigs grew and soon they were signing on the dotted line with Rough Trade.
We had about five songs. One of which was a 10-minute cover of Hey Joe
In the past that label's been home to the likes of The Smiths, The Strokes and, perhaps not entirely coincidently, The Libertines.
Chilli and Sam have an almost Pete 'n' Carl-like relationship.
On stage they ricochet into each other and perform with the same wide-eyed passion.
In person they finish each other's sentences, laugh, bicker and exchange impressions of Keith Richards and Jo Strummer mid-interview.
It all came from one chance meeting around a camp fire at Reading festival two years ago.
Previously, Sam had played in school bands with keyboardist Peter Mayhew and drummer Will Doyle.
Next step
"We formed the band out of a frustration of when we were going around and watching other bands… we felt as though we couldn't feel the music," says Sam.
"We want people to really feel it - we want the bass to rip through people's bodies, the bass drum to go straight inside your head."
Right now they're out on the road playing their first headline UK tour. They were planning to record their debut album "in five days" before they set off.
"Our ambition from the beginning is just to leave a record behind," says Chilli.
"There's not much rock 'n' roll any more. It's still there but it's not like a really popular style of music. For us to be doing what we're doing now and a few people say, 'Hey, this is all right'. That's amazing."