Introducing... Haim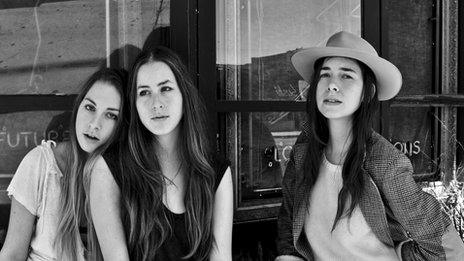 Halfway through our interview, Este Haim outs herself as a pop fanatic.
"I know the dance routine to every Britney Spears and Backstreet Boys song," proclaims the eldest Haim sister.
"We used to watch this TV show back in the day called Making The Video. I was obsessed."
Then, unprompted, Este and middle sister Danielle willingly perform the entire routine to Britney's Oops!... I Did It Again. No hand movement or hair flick is out of sync.
Younger sister Alana, known affectionally as "Babyhaim", watches with a mixture of pride and embarassment.
Rockinhaim
Haim grew up in Los Angeles, California, living off a musical diet of 90s pop and R&B, idolising bands like TLC and Destiny's Child.
Their sound blends that R&B influence with guitars, 80s rhythms and a folk flavour.
Musically, the trio started off in their mum and dad's covers group, Rockinhaim.
Haim, the facts
What: Girls, guitars, retro pop sounds
For fans of: Ellie Goulding, Ladyhawke, Vampire Weekend
Release: Forever EP
Live: Supporting Florence + The Machine this winter
"There was a huge audition process to get into that band," jokes Danielle.
Este adds: "Our father was the original Simon Cowell. It felt like they were waiting for us to screw up in rehearsal."
While still living at home, the girls decided to break away from their parents, took the name of the band and dropped the Rockin to become Haim.
"They weren't angry," says Alana. "We still do one gig a year together at this church in the Valley."
At a recent gig in London, the girls brought their parents up on stage for a Haim family version of Mustang Sally.
"Everyone automatically falls in love with our parents," she says.
"That night my mum may just as well have been wearing an Elvis costume.
"She took the microphone and went all Mick Jagger. We became the backing band."
Supporting Mumford
It may still be early days, but the band can count Ellie Goulding as a fan.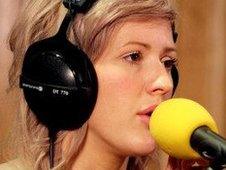 The singer said the girls were "so interesting and different and really talented".
Haim also supported Mumford and Sons on their recent US tour.
"We have separation anxiety from them," says Este. They're like our brothers.
"It's cheesy to say but we never had brothers so hanging out with them was like being in a weird family."
Nineteen-year-old Danielle says the British band are like overprotective older brothers.
"I bought this lipstick," she says. "It was a super-sexy dark purple colour but Ben from Mumford told me to wash it off.
"He said he didn't like it. I listen to him. He knows my best interests."
Este smiles and says: "She threw it away so I took it out of the trash and wore it. Of course it's OK when Big Haim wears it."