Introducing...Unicorn Kid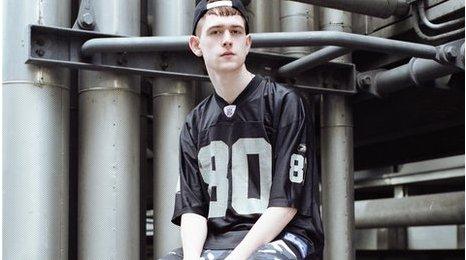 If you have that burning love for pop music then know it could be satisfied by the enthusiasm and passion of Unicorn Kid.
A deep synth, a cracking bass and some sweet melodies help make up his electro-pop sound.
He picked his name, Unicorn Kid, at 15 because he was into unicorns, thinking they were "pretty cool". And now that he is slightly older, he says he's still very happy with his choice.
The 20-year-old started making beats on his computer at home at around the same age as choosing his stage name, and was loading them up online before they caught people's attention.
Unicorn Kid, the facts
What: Dance anthems and electronic pop from Scotland
For fans of: Calvin Harris, Swedish House Mafia, Eric Prydz
Release: Tidal Rave EP
After submitting some of his content on the BBC Introducing website, he turned it into his full time pleasure.
"It kind of happens in waves," he says. "At first it was really slow and then I got all this attention and then you get little waves of attention each time. Every time you kind of rise up another level."
Unicorn Kid, who's real name is Oliver Sabin, is from Edinburgh and will naturally get comparisons to Calvin Harris, who also hails from Scotland. He says it feels good to be compared.
"I am a big fan of Calvin Harris," he says. "I think it is amazing that he came out of Scotland, because not a lot does. Hopefully one day I will get as big as him."
Tempah contact
But the excitable DJ isn't doing himself any justice as he has been noticed by other artists, who also scramble to work with Harris.
"Early on when I first started out Jake Shears from the Scissor Sisters was a really big supporter of me. I met up with him and he was supper cool. A really big fan.
"I've spoken to Tinie Tempah. He kind of got in contact with me on Twitter and said he was a big fan. So it's cool."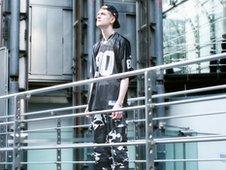 When asked whether his new found friendship with Tine Tempah would result in an appearance on Tinie's long-awaited second album, Unicorn kid would only reply: "Maybe, you never know. I couldn't say anything."
But interest in his abilities in beat-making hasn't stopped there. He has also had interest from producer Diplo, who helped him make contacts across the pond.
"EDM, which is electronic music, is totally blowing up in America, and you know Diplo who's [produced] Major Laser and produced for a bunch of people, got in contact as well, and said he really liked it.
"He asked me on tour with Major Laser back in March. So I did that, and it's cool. I'm just kind of networking, getting to know people, and will hopefully be as successful as them one day."
Ambition
Unicorn Kid isn't setting his sights low. He says once his album is out next year, he's hoping to get the call to start producing for artists, including Katy Perry and Lady Gaga. He says his music "would lend itself really well to them".
His new single Need You was originally written for the Major Laser tour.
"It samples Loleatta Holloway, who's like an old disco singer," he reveals.
"And it's just her singing, I Need You, over and over again. But it's kind of influenced by old rave music from the early to late 90s. So big breaks, big synth cords, big vocals."
But conquering the electronic music world isn't nearly enough for Unicorn Kid. He has his sights set on the singles chart.
"I think it's good to dream big. I would really like to start, maybe on the second album, start working on really the Top 40 pop.
I want to do stadiums, that's my plan. I want to produce for big artists and I've always wanted to make pop music even from the start, just in kind of my own way
Oliver Sabin, Unicorn Kid
"It's the stuff I like. I love good pop music, like genuinely interesting, cool new stuff.
"I want to do stadiums, that's my plan. I want to produce for big artists and I've always wanted to make pop music even from the start, just in kind of my own way. So I reckon in the future, that's the plan."
If he could get a phone call to work with any artist who told him to drop everything he was doing in order to work with him, Unicorn Kid says that person would be Rihanna.
"[I'd] just have a chat with her and maybe ask if I can send her some beats or something like that. I'm a really big fan of Rihanna."
Unicorn Kid has had support from Huw Stephens, Zane Lowe and Nick Grimshaw on Radio 1 and says he'll know he's made it when he has £1 million in the bank. Then he can take a day off.