Introducing...The Neighbourhood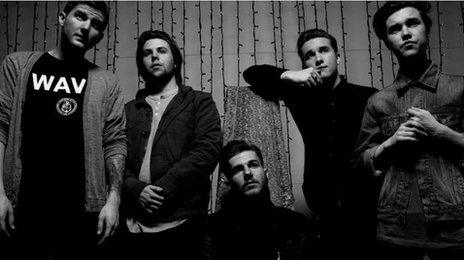 Up until now, the glimpses we've had of The Neighbourhood have been like discovering a rusty film reel in an abandoned attic or flicking through an aging photo album.
It's all been Hitchcock-inspired videos, blurry monochrome snapshots and whispered secrets.
The Californian five-piece have deliberately kept what people can find about them online to a minimum.
"We only let out what needs to be said," says heavily-tattooed front man Jesse Rutherford, rolling a toothpick between his teeth as he speaks.
"What you see, is what you need right now. There's a lot that people haven't seen yet."
THE NEIGHBOURHOOD, the facts
What: Ghostly hip hop with guitars from California
For fans of: Lana Del Rey, The Script, The Killers
Release: I'm Sorry EP
Live: Playing dates in the UK in November
'Thought through'
The Neighbourhood say the mystery is all about carefully working through the stages of their finely-planned journey.
Here's what we do know though - 21-year-old Rutherford is the architect of the project.
Assembling the band in Thousand Oaks, California, in August 2011 his ambition was to form a group which played hip hop with guitars.
The first taste of that came with the low-profile release of their track Female Robbery in early 2011 - a ghostly slice of R&B pop.
Since then they've released an EP (I'm Sorry), made a handful of scattered live appearances and signed a deal with Columbia Records.
'Black and white'
They've only been in the UK for 24 hours when we speak to singer Jesse and drummer Bryan - still bleary-eyed after an evening studio session with Professor Green and Radio 1's Zane Lowe.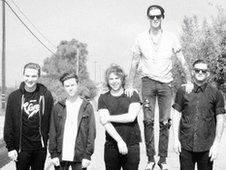 "All three of us are musical people so you can imagine maybe something went down," Jesse lets on. "I'm not going to say much yet."
Impressively confident, Jesse unfolds his plans for the band.
"Everything is thought out," he says. "The art has to match the music. The videos have to match the music.
"Everything is an idea, everything is a plan. It's one goal after another.
"I could tell you what album two sounds like," he smiles.
The front man is confident about what his music is. He's also firm about what it isn't.
"There's nothing wrong with indie bands - but I wouldn't call us an indie band," he explains.
"We're a band yeah, but I think it's a black and white movement." He says "honesty" is the cornerstone of it all.
"Black and white have a lot to do with it. It's not just our colour scheme but that's also about being straight up and honest."
In fact, they draw more from the world of hip hop. You're more likely to catch them listening to Big Sean, Meek Mill and "anything on Kanye's G.O.O.D Music".
Everything is an idea, everything is a plan. It's one goal after another
Jesse Rutherford, The Neighbourhood
"The hustle in hip hop is what anybody can be so inspired by. The way these guys work," says Jesse.
"I've never been in the heart of it - I grew up in the middle of a lily white suburb but for some reason I've always been drawn to hip hop.
As they prepare to put the hard yards in, the next big goal The Neighbourhood are working towards is the release of their debut album in March 2013.
Before that, they'll play their first proper UK shows in November.
"Part of the thrill is surprising people along the journey," says Bryan. "We're trying to exceed people's expectations."