Introducing… Walk The Moon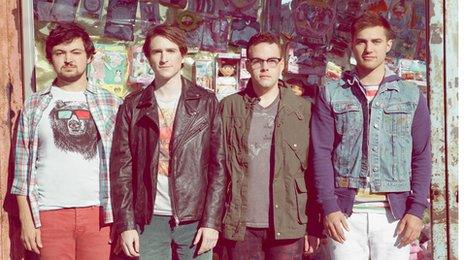 You know when you're starting to make friends in high places when Pink invites you to her customised backstage area and personally serves you drinks.
Not every band has been waited on by one of the world's biggest pop stars.
This was just last week for Cincinnati foursome Walk The Moon.
"She took good care of us," says guitarist Eli Maiman, still looking surprised.
"Then (actor) Jeremy Piven turned up," laughs bass player Kevin Ray. "It was almost too much celebrity to handle for us - we all got shaky and scared."
But the foursome - completed by singer Nicholas Petricca and drummer Sean Waugaman - are getting used to famous encounters.
WALK THE MOON, the facts
What: Anthemic indie rock from Cincinnati
For fans of: The Killers, Foster The People, Passion Pit
Download: Anna Sun
Live: Playing dates in the UK in autumn of 2012
Earlier this month they played a star-studded after-party for the MTV VMAs in Los Angeles and took a shine to UK girl band The Saturdays.
Band beginnings
But, back to musical business. Petricca originally put the group together four years ago at college. After a number of line-up changes they settled on their current one in 2010.
"After college everyone went to get real jobs and I kept playing," says Petricca.
He was inspired by the craft and career of The Killers.
"They were one of the first bands I really started to dig into and dissect," he recalls.
"We take a lot from them and that genre - that crossover of dance and rock. It's definitely still rock 'n' roll even though it's got synthesisers and a disco beat."
Indeed, their anthemic indie-rock is reminiscent of Las Vegas' finest but also recent US breakout stars like Foster The People and fun.
In fact, fun are taking them on tour this autumn. They play in the UK in October.
"This is one of the first tours where we feel like we're really cut from the same cloth," says Petricca.
"We're played with a variety of bands but not necessarily ones which are right there in our genre. They are leading the path we would like to follow as far as a pop band with rock success."
Fun have seen their popularity move to another planet in 2012 - something Walk The Moon want to do literally as soon as tourist space missions start flying.
"There's got to be some good joint opportunity venture there with our name, right?" smiles Petricca. "We'll play on Saturn or something like that.
"I never got to go to space camp so that would make up for it."
Walk The Moon release their self-titled debut album on 8 October.