One Direction's Zayn Malik returns to Twitter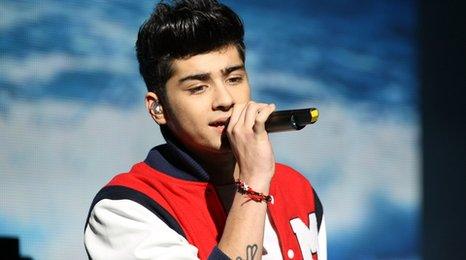 Less than two days after saying he had deleted his account, One Direction star Zayn Malik has announced that he has returned to Twitter.
The 19-year-old posted a message on the site to announce his return.
"Sorry I was getting some abuse on Twitter but I don't want to let my fans down, so I am back," he said.
The rest of One Direction - Niall Horan, Liam Payne, Harry Styles and Louis Tomlinson - all still have Twitter accounts.
More than 450 thousand Twitter users followed Zayn after he re-activated his account.
Zayn Malik also thanked his fans for all their support.
"I really do love all you guys, your support never ceases 2 amaze me. xxx."
The group have also announced the release of their new single, Live While We're Young.
It is due to be released in September 30.
One Direction also announced the release date of their second studio album.
The album will feature collaborations from Ed Sheeran and Tom Fletcher, from McFly. They have yet to announce the name of the album.
They have also worked with a number of well-known producers and song writers including Savan Kotecha, who consults on X Factor, Dr Luke, who has worked with Katie Perry and Toby Gad who has worked with Beyonce.
One Direction will begin their sold out World Tour in the UK in February 2013.