Introducing… A*M*E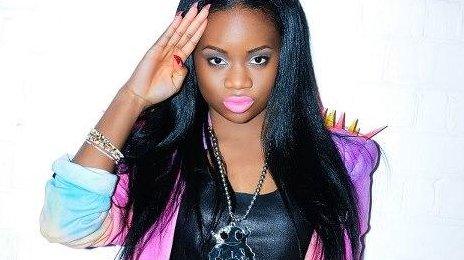 A*M*E would like to start this feature with a warning.
"This face is going to be everywhere," she says, cheekily. "When you wake up, in your newspaper, on your toothpaste."
The teenager from Lewisham, south London, has good reason to be boastful.
She's already signed to Gary Barlow's record label, had a hand in a number one in south Korea and written music with some of the same team behind Emeli Sande's phenomenal success.
Starting out
Like so many budding pop stars A*M*E - her real name is Amy Kabba - has always felt like music was her destiny. She moved to the UK from Sierra Leone when she was 8-years-old.
"I came from a small village. I came to London and it was like sky scrapper and weird escalators that were going to chop my feet off," she recalls.
A*M*E, the facts
What: Mouthy singer from south London
For fans of: Nicki Minaj, TLC, Azealia Banks
Download: Play The Game Boy
Live: Playing live dates in London
Once at school she joined the choir by the time she was 12.
They'd play gigs covering tracks like Rihanna's Don't Stop The Music before A*M*E had her "Beyonce moment". "I wanted to go solo," she says, firmly.
'Cover star'
And that's the way it's been ever since - she's the boss.
Take an example: The 17-year-old makes her own magazine (called The A*M*E, of course). Of the three issues so far she's been on the cover of every one. Just, well, because she can, and she's the editor.
"Hopefully it becomes more than a fanzine and it's on stalls and people actually buy it," she says.
Inside the magazine you'll find the singer's thoughts on everything from love to fashion. Oh, and lots about her obsession with 90s boy bands.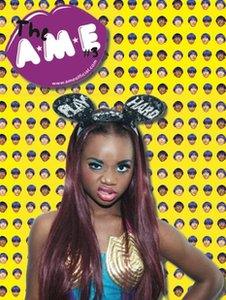 "N-Sync and Take That and all those other boy bands were in a completely different league to boy bands now.
"I don't think we can compare them. They're still good now but I love the 90s so I'm biased."
Barlow collaboration
Handy then, that one of her biggest inspirations in music - Gary Barlow - happened on her demo through a mutual contact and signed her up to his record label.
"He's a legend. It's incredible," she gushes. "He's really important in music."
A*M*E admits they're from very different worlds but would love to write music with her label boss.
"It's going to happen. We're going to write a proper rude boy skanky tune," she giggles. "Gary Barlow on keys - it's going to be sick. It'll come soon."
Something to listen out for in 2013 then. As well as her debut album, which she says is "80% done".
"I want to go all the way," she says, strutting out of the door. That, you cannot doubt.
A*M*E's single Play The Game Boy is released on 5 November