Introducing… Maxsta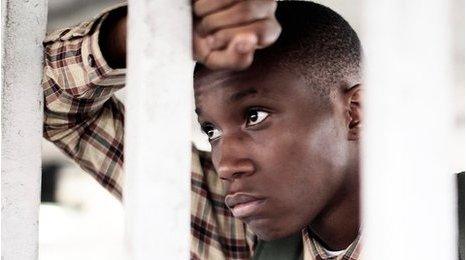 For some reason being a massive fan of Harry Potter and being a well-respected potential breakout star of the east London underground grime scene don't feel like they should go together.
Maxsta, a 20-year-old MC from Newham, smiles a toothy smile.
"I like what I like," he says, unapologetically.
"Obviously I've read all the books like 10 times. I've seen the films maybe 30 times."
Potter rap
Take one glance at his Twitter and you'll see that Maxsta isn't joking. It's lead to, what shall we call it, an interest in actress Emma Watson (Hermione Granger in the films, of course).
"Yeah, I like her - what can I say," he laughs.
MAXSTA, the facts
What: Breakout east London rapper with a love for Harry Potter
For fans of: Wretch 32, Wiley, Dizzee Rascal, Dot Rotten
Download: I Wanna Rock out now
Live: No dates confirmed
"Well, maybe I don't like Emma Watson, I might meet her and be like, 'Can you dress up as a wizard?' She might not be down for that. If she's a cool person we might get along."
When Ian Koromah isn't watching his Deathly Hallows Part 1 DVD for the 19th time or playing Xbox in his bedroom, he's being talked about as one of pop's most promising stars.
His track I Wanna Rock, which features the sample of Rob Base & DJ E-Z's Rock's It Takes Two, seems to be everywhere.
"I remember I got the beat and I was proper sceptical about it because I thought it was on some Yankee tip," he says. "I wasn't sure how people would take it."
Underground respect
You see, Maxsta finds himself in the same position so many east London rappers have in the past too.
He's on the verge of a mainstream breakthrough but also wants to maintain the respect of his underground peers.
The wisest thing to do is appeal to the widest audience possible. If I could kill two birds with one stone - I'm going to keep throwing them
Maxsta's seen the likes of Dizzee Rascal, Wiley and Wretch 32 manage to successfully juggle these pressures before.
"Dizzee Rascal - he was always commercially accepted but he was like very grimey as well.
"I could make it look like it's all been up up up all the time but obviously there's been setbacks and things like that," he says. "If you want to be a big artist it's proper hard to get to that stage."
'Ambition'
But Maxsta didn't always have the encouragement of his family. In fact through his teenage years his mother wanted him to train to become an architect.
"I remember my mum got my uncle to sit me down and stop me doing all of this.
"He was like, 'Out of all you 1,000 black boys who make music only five of you will make it. I was like, 'I'll prove you wrong.'
While I Wanna Rock is spreading word of his talent he's already looking towards the future and his next track.
"I've got my next single which is big," he says. "I'm always trying to better myself.
"I'm interested in how it'll be received. It's a touch grimier than you'd expect. It's not watered-down at all.
"The wisest thing to do is appeal to the widest audience possible. If I could kill two birds with one stone - I'm going to keep throwing them."