Introducing… AlunaGeorge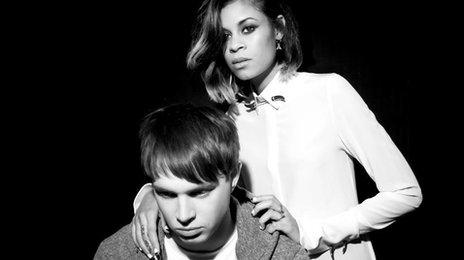 What Emeli Sandé can tell you about neurology is fascinating, as is Chris Martin's knowledge of greek mythology.
Some pop stars are sitting on some unusual specialisms.
Proof: Before assuming her current position as singer in slinky R&B duo AlunaGeorge, singer Aluna Francis, was a reflexologist (a form of alternative medicine).
"I've got some old clients who text me now and again saying, 'Have you got time to massage my feet?'" she laughs.
"I'm like, I'd love to but I'll give you a call when I'm free.
AlunaGeorge, the facts
What: Slinky, leftfield R&B with a pop twist
For fans of: Aaliyah, The xx, Ciara, Timbaland
Download: You Know You Like It
Live: Touring the UK in summer 2012
"I'm one of the best feet relaxers that you'll find," she says.
"If you massage them in a particular way you can make someone super relaxed but you can also encourage their bodies to heal in certain ways."
Back history
But so far in 2012 Aluna's been too busy to return her clients calls.
Indeed, the buzz around her band has been building neatly since the video for You Know You Like It was passed around online earlier this year and attracted attention from Radio 1xtra and Radio 1.
The duo's (completed by producer George Reid) hook-up came a couple of years ago when George remixed a track for Aluna's old band - the pair realised they could create something special so broke-off to do their own thing.
"We definitely found something in each other which instantly worked," says George.
"Apart from just getting on with George I liked his ability to put together a really interesting, unusual beat," agrees Aluna.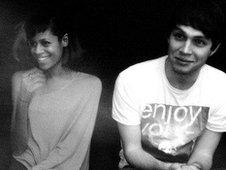 Their chemistry was instant.
"We let each other experiment," explains Aluna. "If after a while it's still not working one of us will be like, ahem, that's not really working."
Aluna on stage
It's still early days for the pair - George is just happy that people are discovering the band and coming to their shows, even if they don't have anything physical for sale in the shops (just an EP online).
He says they've got a debut album about 75% done, and hoping to have something final out by November.
In the meantime they're working on their live shows - where they're joined on stage by extra musicians.
"When it comes to electronic music it's so easy to cheat people with the live show. And tempting," says George.
"But people who're seeing us for the first time, it's nice to give them a show. It's nice to show where those sounds are actually coming from."