Introducing… Mac Miller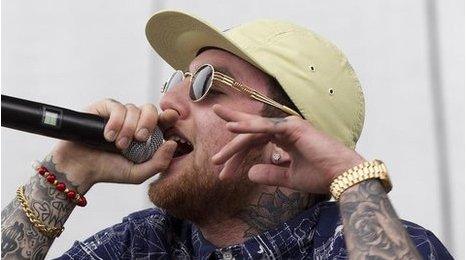 Unashamed ambition, legions of online followers and Justin Bieber's number in your phonebook - not a bad set of tools for a 20-year-old rapper to have in his arsenal.
Malcolm 'Mac Miller' McCormick may be a relatively new name to UK audiences but he's already scored a number one album on the US Billboard chart, remixed Bieber and collaborated with Pharrell Williams.
Therefore, it's kind of understandable that he's getting ahead of himself.
"In reality, I want to be one of the biggest artists of all time," he says, removing a pair of oval sunglasses. "Why wouldn't I?"
Mac Miller, the facts
What: Hip hop from Pittsburgh rapper served up with a knowing wink
For fans of: Eminem, Asher Roth, Tribe Called Quest
Download: Blue Slide Park
Live: Touring Europe in summer 2012
"I plan to become a legend, an icon, become someone who does something really meaningful and has a movement that's powerful and does something that scares the government."
Musical story
Miller's story begins aged six when he first picked up an instrument. By eight he began writing songs (inspired by Mary Had A Little Lamb) and put out his first rap mixtape at 15 years old.
As a teen he secured a fierce reputation for free-styling in his native Pittsburgh which saw him strike up a friendship with Black And Yellow rapper Wiz Khalifa (the pair tour together this summer in the US).
"Musically we've done our own things but we've just been there to support each other," he explains, with a smile.
"He tries to younger brother me all the time but I'm not really with that. He always tries to cut up on me and joke around."
Mac Miller's biggest achievement so far came when he went top of the charts Stateside with his debut album Blue Slide Park, shifting 144,000 copies in its first week.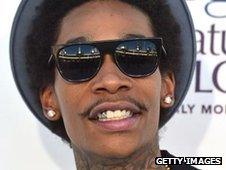 "People were buying it nine times at a time just to support me," says Miller. "It showed the power of connecting with my fans."
And there are a fair few of those. More than two million followers on Twitter and more than that on Facebook.
"I get sad like anybody else, I feel like I want to brag like anybody else - I want my Twitter to reflect that," he explains. "It's like a public journal and that's scary."
Rap collaborations
His burgeoning reputation, chart success and delivery have inevitably led him to be compared to another white rapper - Eminem.
"I think that white rappers shouldn't get mad at it [the comparison]," he says.
"It's like, who cares? Eminem's incredible but our music is way different. That's just what it is. It's nothing to get hung up on."
With his debut album out, new material in the pipeline and summer festival appearances Miller has plenty to look forward to, as well as a wish list of artists he'd like to collaborate with.
"Either Kanye West or Timbaland," he fires off. "They'd be the two right now. Kanye - he's just a true artist. He makes big statements, like subtly but strongly."
Just like Mac Miller, then.