Introducing… Lawson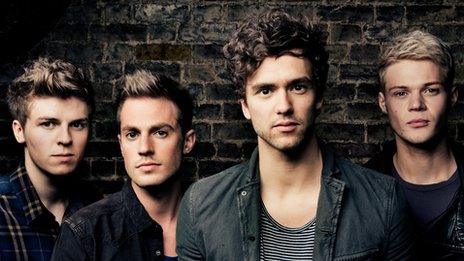 Some bands take their names from films, others find inspiration in songs or books. Lawson are named after a brain surgeon.
Andy Brown, lead singer of the group, was diagnosed with a brain tumour just before starting the band.
They decided to honour Dr Lawson, who performed the operation to save Andy's life.
It also helped they thought the name had a "cool ring" to it.
"We were lucky that it sounded good too," laughs Andy.
Lawson are four undeniably good-looking guys: singer/songwriter Andy, along with Adam Pitts on drums, Joel Peat on guitar and Ryan Fletcher on bass.
Lawson, the facts
What: American influenced pop rock with a guitar twist
For fans of: The Script, The Wanted, Maroon 5
Download: When She Was Mine (27 May)
Live: Touring throughout the UK this summer
Their appearance, along with their young, dedicated fan base, makes it easy to draw parallels between them and bands like One Direction and The Wanted.
The Geese
When we make this comparison, they are keen to point out their differences.
"I wouldn't put us in the same bracket," says Joel. "I would say say we're more like a band because we play our own instruments."
"We get why we get it," adds Adam.
"We're four guys, we look like we're in a boy band but I think if people come to live shows it speaks for itself."
And to be fair to them, they have worked their way up the ladder, paying their dues, opening for other bands to rooms of just a few people.
One similarity though is that their fans have banded together to name themselves, much like the Directioners and the Beliebers.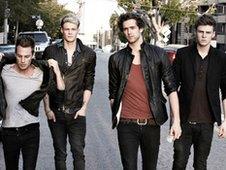 Slightly more cryptically than these fans though, Lawson followers call themselves 'The Geese'.
This was a term the boys used on Twitter to describe women and then the fans decided to take it for their own.
Future collaborations
According to Ryan, Andy is "genius behind most of the songs", with the three others adding to the arrangements and "Lawsifying it up".
The Lawson sound has already attracted other stars keen to collaborate.
"Gary [Barlow] started following me on Twitter and that was the biggest starstruck moment for me ever," says Andy.
Apparently their label has been keen to set up some time for the pair to write together.
"We're all massive Take That fans and [to write with him] would be a dream come true."
We look like we're in a boy band but I think if people come to live shows it speaks for itself
The boys are currently on a high in the run up to the release of their first single, laughing and joking throughout our time together.
They have big aspirations for the next few months.
"We're probably dreaming," says Ryan, "but we'd love to be doing a theatre tour."
They have been performing with The Wanted and have seen them go from smaller venues to selling out arenas in under a year.
"Our favourite thing to do is playing live," adds Adam. "So if we could just do that all around the world, that's what I want to do."
When She Was Mine is out on the 27th May