Introducing... 2:54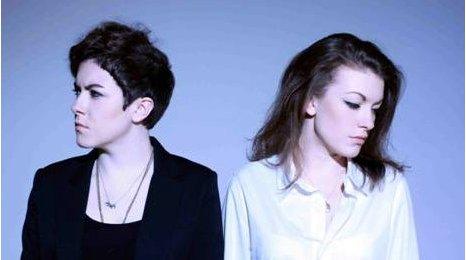 Some bands are born after a fight over the sixth-form stereo, others after a note's pinned on the ad board at the local record store.
But for 2:54 it was something much more unavoidable.
They're sisters Hannah and Colette Thurlow. Growing up in Co. Clare, Ireland, to them making a band didn't seem to be something to do but the only thing to do.
As teenagers (now based in Bristol) they'd swap musical tips - Colette would crank Aayliah up on the stereo while Hannah would study the savage riffs of Metallica - and they'd both swoon over the power of Queens Of The Stone Age.
Band beginnings
It's those disjointed tastes which the girls have boiled down into their current style - a smoky broth of groove and bewitching fuzz. It's all channelled into their self-titled debut album.
2:54, the facts
Who: Two sisters from Ireland via Bristol
What: Dark-pop
For fans of: The xx, Massive Attack, The Pixies, Warpaint
Download: 2:54
But it wasn't always this way.
"Lots of pop punk," says Collette shyly, recalling the first songs the sisters wrote together. "Hannah did some shredding and I would just shout.
"We look back warmly at that time. You're just feeling your way around."
But it was one track (Creeping) posted online 18 months ago which rocketed them into tour support slots with Warpaint, The Big Pink and, now this week, The xx.
"We were chucked in the deep end but it was incredible - it never stopped. It just kept on building," says Colette.
Now, much further down the road, that initial thrill of being in a band as their job is yet to diminish.
"It's still just cool to have a dressing room to hang out in beforehand," smiles Hannah.
Record deal
The online attention and those early gigs saw them bag a recording deal with Fiction - home to the likes of The Maccabees, Snow Patrol and Elbow.
We were chucked in the deep end but it was incredible - it never stopped. It just kept on building
Their debut album was recorded in 13 long days and nights. Pick up a copy and you'll see a picturesque cover shot of Harley Weir, Doolin Point, Co. Clare in Ireland. It's an idyllic scene that's close to their heart.
"It's just where we spent our childhood summers," says Colette, looking nostalgic.
"It's an incredible, really turbulent sea-scape. It's really rugged and wild.
"I was really formative because we spent our youth there climbing rocks. Cliffs and islands… just magical. I think it's reflective in the music. Somehow it's just part of us, that place."
That one photo sums up what 2:54 are all about - few words, room to think, raw emotion and heaps of natural beauty.
"To be able to continue doing this is our biggest goal," says Hannah meekly.
"To keep making albums and seeing where it all goes," adds Colette, signing off. "I can't wait to see where the sound goes in the next couple of years."
2:54's self-titled debut album is released on 28 May.