Introducing… Gabrielle Aplin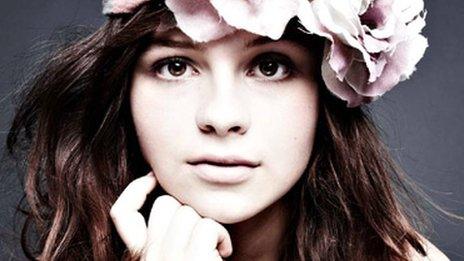 The M1. Just outside Leeds. Not necessarily the immediate location that springs to mind for a gig.
But when Gabrielle Aplin and her band got stuck on the 193-mile motorway earlier this year they turned it into an ad-hoc stage.
"The road was shut in both directions. We got out and started playing," says the 19-year-old. "My tour manager made me."
"We filmed five songs. It looked like the Katy Perry Teenage Dream video. Everyone was cheering and clapping."
Gabrielle Aplin, the facts
Who: 19-year-old singer from Chippenham, Wiltshire
What: Folky pop
For fans of: Laura Marling, Emeli Sandé, Noah and the Whale
Download: Home EP
Bedroom singer
In this age of X Factor, there's something old-fashioned about a teenage singer-songwriter getting a record deal in a relatively conventional way.
Gabrielle was noticed, she was signed, she's now recording an album. No talent show judge in sight.
The singer from Chippenham has been releasing videos in her bedroom on YouTube for several years.
Her covers of Katy Perry, Cee Lo Green, The Naked & Famous and Coldplay have racked up hundreds of thousands of views and has given her a solid fanbase.
But the teenager, who plays guitar and piano, also has a wealth of original material inspired by singers such as Nick Drake and Joni Mitchell.
On the flip side however, she is partial to some cheesy 80s pop. "Take On Me by A-Ha is my favourite song."
Record deal secured
Gabrielle released her first EP, Home, in January sparking a bidding war with several labels.
In the end she signed with Parlophone. "I got the call from my manager and an hour later I was in London signing it (the deal).
"I still had make-up on my face from the night before and looked like a witch! It was great, there was champagne, photos; the whole office had come out."
I love 80s cheesy pop. A-Ha's Take On Me is my favourite song ever
She's recording her debut album and is working with Mike Spencer, who's most recently produced Rizzle Kicks and Emeli Sandé.
"He's really cool. He can do bubble-gum pop but also has this dark side which I like. He's really good at what he does."
Gabrielle's recently finished a tour with chart-topping singer Gotye. "I had a chest infection," she admits, "but I had to do it. It was a great atmosphere working with a load of bouncy Australians."
There's a checklist of ambitions she wants to achieve including a debut album and a world tour. At least one, the album, should be crossed off the list before the end of 2012.