Introducing... Alabama Shakes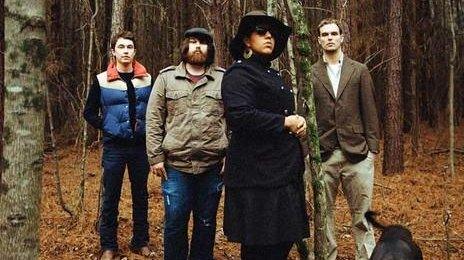 Some bands are in it for the money. Some bands are in it for the legions of fans camped out outside their hotels. And some bands are in it for the, um, food.
Gospel garage-rock band Alabama Shakes are less concerned about the first two, and more bothered by the latter.
"We've always loved food and now that we get to travel round the world and try even more of it," exclaims drummer Steve Johnson. "Dude, it's so good. Dinners, drive-ins and dives."
We're speaking to the Athens, Alabama four-piece the day after they arrive in the UK to play their first shows in the country.
They've already hunted out a plate of fish 'n' chips. "We still haven't tried black pudding," quips Johnson.
Alabama Shakes, the facts
What: Soulful garage rock from Athens, Alabama
For fans of: The Gossip, Kings Of Leon, Led Zeppelin
Download: Hold On
Live: Touring the UK in May
Convenient then that among the stars tipping the band for big things is actor Russell Crowe and, odder still, Jamie Oliver.
"That's cool," says Johnson. "If he wishes us luck, well then, I wish him luck too.
"I'd like to get together and have an acoustic jam session and he could cook us some food - that'd be cool.
"Or maybe he'd like us to cook for him? We eat a lot of Mexican food, sushi and pizza."
Jack White endorsed
It's not celebrity chefs declaring their love for Alabama Shakes' heart-felt brand of 60s R&B though.
Ex-White Stripes man Jack White is such a big fan, he invited the group into his Nashville record label Third Man to record a session for release on vinyl.
I was kind of starstruck honestly. I shook his hand. He's got this aura. People are just magnetised to him
Alabama Shakes' Steve Johnson on Jack White
"He's a very sweet and very normal person," says lead singer Brittany Howard.
"I was expecting him to be pretentious or something but he just walked right up to us and said, 'Hey, I really enjoyed that. Thanks for doing it.'
"He's a totally normal dude."
"I didn't talk to him much," confides Johnson. "I was kind of starstruck honestly. I shook his hand. He's got this aura. People are just magnetised to him."
The future
Indeed, the opportunities and freak encounters are coming thick and fast for the band who release their debut album Boys & Girls in April.
It started at school before Brittany met Steve when he worked in their local music store (they're joined in the band by guitarist Heath Fogg and bassist Zac Cockrell).
Later she'd hold down a job as a post woman and Johnson worked at a nuclear plant.
At weekends they'd dedicate every minute they could to the band. They were snapped up by UK label Rough Trade - home to The Strokes and Mystery Jets.
All of which brings them to where they are now, on the cusp of a real breakthrough.
But their minds are on other things.
"Have you heard of a show called Cooking With The Band?" asks Johnson.
"This guy cooks a meal with the band. You sit down and eat it and the band plays a couple of songs. I'd love to do that."