Introducing...Stooshe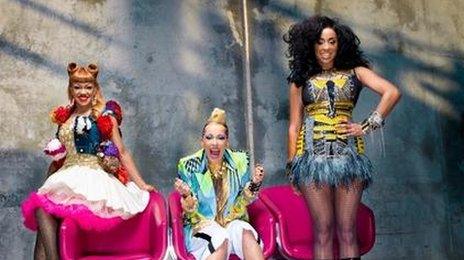 This week London girl band Stooshe will be experiencing their first Brit Awards.
Today - squeezed on a sofa together - the nearest mention of the biggest night in the UK's music calendar has the trio in fits of excitable giggles.
"We are so excited," says Karis Anderson, one third of the girl group, trying not to hyperventilate. "I can't wait to see Adele live."
This year newcomers Stooshe are just going as guests - that's cause for celebration enough - but next year though?
"To be at the Brits and receive a nomination," says Courtney Rumbold, straight-faced when ask about the group's ambition.
"To be accepted in the UK music scene," says Karis Anderson with a little more restraint.
Stooshe, the facts
What: Girl-pop from London town
For fans of: The Go! Team, TLC, Beyonce
Download: Love Me
Live: Touring throughout the UK
Creative direction
Two singles into their career and things are progressing well for the trio.
They were put together by their "creative director" Joe Perry at the start of 2011.
Alex and Courtney were both spotted by a stylist as they wandered around a clothes store in a shopping centre.
"She was like, 'I like the way you look - can you sing?' recalls final member Alex Buggs.
"We gave her our details and we went down to the studio to sing for our creative director and she was like 'yep, you're in a band'."
They make no bones about being manufactured but somehow their chemistry seems natural.
"It's like she's part of the group," says Karis, of Perry's involvement. "She's like our music mummy we call her. Everything we say gets taken on board. We're really equal in the whole creative directing."
'Real life'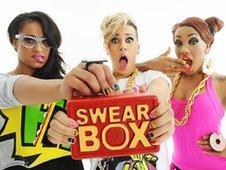 From there they set about honing their sound and image. Late last year they emerged with their debut single Betty Woz Gone. It captured the attention of the industry and earned them a slot in the BBC Sound Of 2012 longlist.
New single Love Me - formerly named something much ruder - features Gym Class Heroes and is released in March.
They say, unlike other current chart acts, they're unafraid to confront certain female social taboos.
"It's real life," says Courtney. We're talking about what people are too afraid to speak about. Don't beat around the bush just love us quickly."
Their success so far has only fuelled their appetite to work with even bigger artists.
"We're open to anyone who is willing to have a good time," giggles Courtney.
There were a few girls bands around but none of them have taken it to that next level
"But obviously we'd like Jay-Z, Beyonce, Kanye, Nicki, MIA, TLC… "
New chapter
Stooshe are well aware that 2011 wasn't the greatest year for girls groups.
With Girls Aloud still on hiatus, Sugababes stalling and The Saturdays not inheriting either's crown.
"It's definitely time for just females in general," says Karis diplomatically.
"This is going to be our year fingers crossed. There were a few girls bands around but none of them have taken it to that next level. We've just got to work hard and hopefully prove people right."
Of course, their main competitors could be X Factor champions Little Mix.
"We've never met them but I look like them like little sisters," says Karis.
"They're still finding their sound - they've only done covers on X Factor," says Alex. "We've found our sound - we don't know what they're going to do."