Introducing… War Of Words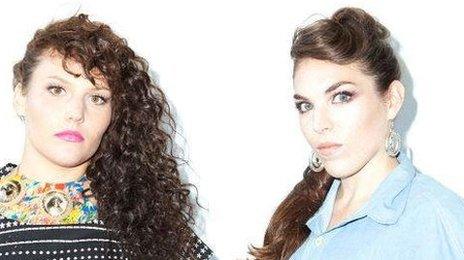 It's funny to think that the YouTube videos, voice-activated smartphones and pop stars of today will, one day, become the nostalgia of the future.
There's something quaint about looking back.
In many ways London duo War Of Words are indebted to the past - but in the fun, fuzzy, warm-feeling kind of way.
They're self-diagnosed 90s obsessives still in love with the sound, vibe and attitude of the decade which brought us Spice Girls, Britpop and the internet.
90s love
Musically they're channelling the spirit of Massive Attack, Ace Of Base and Neneh Cherry rather than Blur and Take That.
War Of Words, the facts
What: La Roux approved London pop with a 90s slant
For fans of: Massive Attack, Neneh Cherry, Emeli Sande
Download: Panic and Battleground
Live: Hull University (26 Jan)
But today they're more interested in talking about the TV series they loved growing up in the 90s.
"Fresh Prince Of Bel Air," screams one half of the pairing Abi Browning. "You've got to love it."
"Kenan & Kel," chips in Lucy Duffield. "Sister Sister…"
We offer Sabrina The Teenage Witch.
"Yes," explodes Abbey. "I used to be so jealous because she [Sabrina - played by Melissa Joan Hart] could just click her fingers and change her outfit.
"I've always wanted to do that," she says, looking disappointed. "It's never going to happen."
Studio stress
Here's the back story then - War Of Words met and became friends four or five years ago. Abi was a graduate of Croydon's Brit School and Lucy was playing lots of live gigs.
"It took us a while to decide what we really wanted to do together and get a distinct sound," explains Abi.
When you listen to the radio now you can tell that everyone uses the same producers and same writers
Abi Browning, War Of Words
"We've got different voices, I'm more pop and you're more soul. We realised where we met in the middle and it's the 90s. We both love 90s music."
In 2011 they knuckled down to making music - heading into the studio with La Roux's Ben Langmaid.
He's the one who isn't Elly Jackson and you hardly ever see ("He could go out and get naked and no one would ever know," giggles Lucy).
Their sessions together were fruitful - if occasionally stressful.
"He did make me cry a couple of times," confesses Lucy.
"He really pushed you to do your absolute best," says Abi, by way of explanation.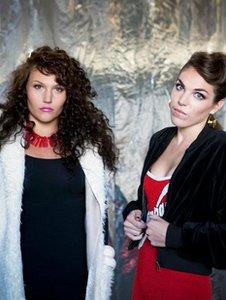 "Some people will just let you do something a bit half-hearted but he'll really push you to be the best you can be. Even if it does upset you sometimes."
The sessions produced their debut singles Panic and Battleground - out now - a pair of tracks they reckon indicate that it could be time for a shake-up to the current state of pop music.
Arena ambition
"When you listen to the radio now you can tell that everyone uses the same producers and same writers," says Abi. "I think it's a bit of a shame really,"
"There are people coming up but I think there's something missing. Someone needs to break the mould all over again."
It's still early days in terms of a debut album but the girls are planning to release a mix tape.
They've only played a couple of live gigs so far but they're getting ready to perform at Radio 1's new music event in Hull this week.
"I'm the biggest dreamer going," says Lucy thinking about the group's ambitions.
"We're aiming for the stars," sings Abi. "You've got to aim high."
"We believe in ourselves and that's the most important thing. If you believe in yourself other people will."
"I actually love singing," says Lucy, with a serious face.
"It's my ambition to go to America and ask, 'Can I borrow your choir for tonight?' A big gospel choir, in a big arena… Oh, I'd love it."
Singles Panic and Battleground are out now