Introducing… Dillon Francis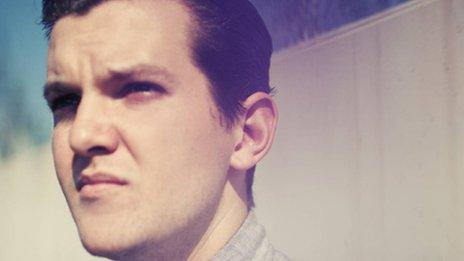 Cider. It's Dillon Francis' favourite drink since he tried it for the first time in London last year.
"It's Godlike. I had it when the UK went through a hot spell," says the American DJ. "I don't know why we don't have it in the USA. I love pint glasses too. They make me feel more of a man!"
The 24-year-old from Los Angeles has been soaking up the UK atmosphere with gigs across the country in a bid to build up his profile.
While the reaction has been good, he does admit to a couple of surreal moments in the DJ booth.
"I had these three Americans watching me DJ for an hour. They just stared at me, not reacting to any songs," he says.
"It's the most awkward situation I've ever been in. I wanted to build UK foundations and all I got were three strange Americans looking at me."
What is 'moombahton'?
Dillon's one of the pioneers of moombahton, dance's latest sub-genre. Getting him to describe its sound proves tricky though.
Dillon Francis, the facts
What: Dance, Dubstep, Electronica, Moombahton
For fans of: Skrillex, Diplo, Flux Pavilion
Listen: http://soundcloud.com/dillonfrancis
"It's reggae tone, it's siren synths, it's elements of drum 'n' bass. There's no general theme to it. I'd call it tropical, but right now it's becoming more aggressive. Everything's at 110bpm. Basically it's something for everyone."
He's releasing an EP on Skrillex' OWSLA record label in February and says dance is in a great place right now.
"Skrillex is doing an amazing job at making [dance] accessible," he says.
"Also, people who criticise David Guetta shouldn't. He's the reason so many of us are getting booked. He's made the DJ into a superstar. Nobody would turn down the success he's having."
Remixing track
Calvin Harris is a fan of Francis too.
I encoded the vocals and tried to use them as little as possible
Dillon Francis
on remixing Cher Lloyd
"He hit me up personally and asked me to remix Feels So Close," he says. "He's one of my favourite artists so I wasn't sure I was able to do it, I had a week to do it, maybe less."
He's also remixed Death Cab For Cutie, Kissy Sell Out and - more unusually - an X Factor finalist.
"I remixed Swagger Jagger for Cher Lloyd. I had no idea who she was. I'm not gonna talk about the song but I turned it around to make it listenable for the other part of the public who maybe don't like her."
How exactly?
"I encoded the vocals and tried to use as little as them as possible," he laughs. "She's probably not heard it herself."