Introducing… Icona Pop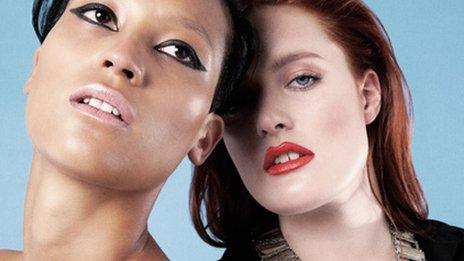 We meet Icona Pop in their unconventional dressing room up four flights of narrow stairs at the top of a church.
Surrounded by toys, costumes and other Sunday school memorabilia, the Swedish duo are supporting Marina and the Diamonds in east London.
"This is only our third gig in the UK but the sound in the church is amazing, so beautiful," says Caroline Hjelt, one half of the duo.
"Marina's been taking care of us. We've been out with her a couple of times and have had the best nights ever. Alcohol was involved - but that's not a bad thing."
Icona Pop, the facts
Formed: February 2009
What: Swedish electro pop
For fans of: Robyn, Niki & The Dove, La Roux
Download: Nights Like This EP
The girls, Caroline and friend Aino Jawo, are the latest in a long line of Swedish acts hoping to make an impact with their own Scandinavian sound.
"We're mainly pop with some electro. There's twisted synths going on as well as galloping drums," says Caroline.
The pair met at a house party in Stockholm in 2009 where they drunkenly agreed that they should make music together.
"I was forced to go to her party," says Aino, "I'd been dumped and was lying in a bed for two weeks. So I went to the party, we were introduced and started to talk. We kind of fell in love."
The drunken promise then turned into a reality.
Caroline says: "[Aino] then called me the next day and I was nervous about meeting up again, maybe it had only been the alcohol talking the night before."
Sounds of Sweden
"In the beginning we thought we were the best band in the world. We booked a gig two days after we met. That meant we had four weeks to make five songs and pull a band together."
I just think people are sensitive in Sweden when it comes to art and trends
"We get into trouble cos we know what we want!"
Sweden is one of the world's largest exporters of music.
Acts like Robyn, Swedish House Mafia, Lykke Li and recent Sound of 2012 finalists Niki & The Dove have all gained critical or commercial acclaim over the last couple of years.
Icona Pop want a share of that.
"I just think people are sensitive in Sweden when it comes to art and trends. It's a very small country," says Caroline. "Most people are very good at what they do and then they'll hook up with the others."
Last year, the girls were signed to Mercury Records, the home of Chase & Status, Nero and Maverick Sabre.
Their debut album is finished and is due for release later this year.