Introducing… ∆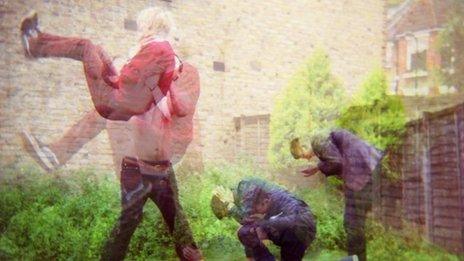 That's correct, it's not a typo on your screen, the name of the band is ∆.
It's the symbol you get when you hold down Alt and J on a Mac computer keyboard. That's also how you say their name, Alt-J.
But if that sounds a pretentious way to introduce a new musical project to the world it isn't meant to. Nor are the abstract press shots, they just don't like having their photo taken.
"We do like triangles," says Alt-J's friendly front man Joe Newman. "In a lot of our spiel we talk about triangles."
"We also wanted to try and have a band name that's from a symbol, not just a spoken name."
Indeed, in their one official single to date - Tesselate - they sing about "triangles - my favourite shape/Three lines where two points meet."
Alt-J, the facts
What: Experimental pop foursome now based in Cambridge
For fans of: The xx, Sigur Ros, Radiohead
Download: Tesselate
Live: Touring the UK in February with Ghostpoet
Story so far
The quartet's - that's Joe plus guitarist Gwilym Sainsbury, Gus Unger-Hamilton on keyboards, with drummer Thom Green - journey to this point began a few years ago at Leeds University where they first met.
After a brief spell performing under the name Films they decided on their new moniker, new direction and new home.
Having upped sticks this summer they now all live together in Cambridge.
"I've been punting," remarks Newman. "I've also seen people fall in the river. It's been horrific but also quite funny."
When they're not giggling at other peoples' misfortune though they're concentrating on the serious business of writing new music.
"There's a lot of conflict, a lot of tension - often that's where great pieces of work come from," says Newman.
We don't just bash out 70 songs and decide which ones are best. We focus on each song
"We don't just bash out 70 songs and decide which ones are best. We focus on each song."
And you can tell - each of Alt-J's songs so far sound like minimal, chiming hand-crafted alternative pop parcels.
Their plan now is to release a new single in January having recorded with producer Charlie Andrew in November.
They'll tour the UK with Mercury Prize nominee Ghostpoet in February and hope to record their full debut album in summer 2012.
"What Radiohead have achieved is beyond any band that I know of. It's fantastic," says Newman, pondering the his own musical heros and his band's future.
"Inevitably you dream but I think we're all grounded. We don't want to start getting ahead of ourselves.
"We've only released one single. I think we're all super keen on releasing an album that we're proud of. For us that's a big enough dream.
"We'll ignore the accomplishments of Radiohead for now," he smiles.