Introducing… Michael Kiwanuka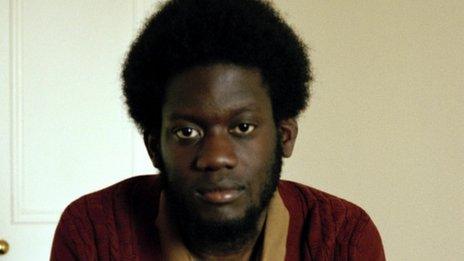 Michael Kiwanuka has had, in his own words, an "incredible" couple of weeks.
He appeared alongside Red Hot Chili Peppers and Bjork on the final episode of the most recent series of Later…With Jools Holland on BBC Two.
This week he's been confirmed as one of the artists on the BBC's Sound Of 2012 list voted for by more than 180 music tastemakers.
The day we speak to him, he's about to perform on the same bill as Coldplay.
Not bad for a 23-year-old bloke with a guitar who only started writing songs three years ago.
MICHAEL KIWANUKA, the facts
What: Classic storytelling from north London singer
For fans of: Otis Reading, Bill Withers, Ed Sheeran
Download: Home Again
Live: Touring the UK in February
Dodgy gigs
Let's take it back a bit though.
Before he came to support Adele on tour this summer the Londoner, like many of his peers, began honing his craft by performing at any pub or bar open mic night which would have him.
Not all of the early gigs were a success.
"I've had loads of those where you play a song and after you finish the song people are just talking at the end of it," he smiles, thinking back.
"You don't hear anything except one clap.
"One clap is probably the worst because with no claps you can get on with the next one - one clap is pretty embarrassing."
After getting signed by Polydor - the home of the likes of 50 Cent and La Roux - he shared a stage with Adele this summer.
"It was the most nerve-racking thing in my life at the time," recalls Kiwanuka.
"It was good but odd as well. She's [Adele] very down to earth, very supportive, gave us loads of help - and champagne."
Doing the tour with Adele was just a good taste of what it could be like to do well and be successful. It looks amazing
'Incredible' experience
As summer came to a close the hype-machine started whirring and ending up with Kiwanuka performing on Later…With Jools Holland this autumn.
"To be around those musicians and artists was incredible," he says.
"Noel [Gallagher] was quite funny because he didn't know what I was doing there.
"At the beginning you have to do a photo with all the artists - I turned up late with my guitar. He was was like, 'What's your name?' It was quite funny.
To date he's released two EPs - another will follow in January and an album (titled Home Again) will be released in March.
It was written and recorded in the secluded surroundings of Paul Butler from The Bees' Isle Of Wight basement studio - an experience he described as "fantastic".
But while on tour with the global megastar it wasn't just Adele's champagne Michael got a taste for.
"Doing the tour with Adele was just a good taste of what it could be like to do well and be successful. It looks amazing," he laughs.
"People singing your songs back... lovely venues... different countries. I got a small taste of that and I wouldn't mind seeing that in real life for myself.
"I'd take half, a quarter… I'd love that, something close to that."