Introducing…Zulu Winter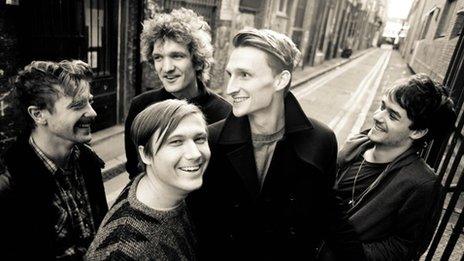 'If you're going to do something, do it properly' - that's pretty much the moto of newcomers Zulu Winter.
That's why the London-based fivesome locked themselves in a basement studio nearly 14 months ago and kept writing songs until they felt what that they'd come up with was good enough to release.
The idea? No industry-packed gigs, no online presence, not a peep from them really… until the project was ready.
Very much like The Vaccines - whom they share management with - did before them.
Band history
"I don't think we planned it to woo the industry or woo anyone," says lead singer and guitarist Will Daunt.
ZULU WINTER, the facts
What: Dance indie pop played from the heart
For fans of: The Shins, Arcade Fire, The Killers
Download: Never Leave
Live: Touring the UK in 2012
In fact the band, friends since school, saw this method it not as an option, but as their only option.
"There's no excuse for it. Write some good songs and write the majority of your album then go and then play some gigs," says Daunt, laying their plan out.
"It's not fair on your fans, listeners or yourselves otherwise."
The line-up is completed by Guy Henderson (drums), Dom Millard (keyboard), Henry Walton (guitar) and Iain Lock (bass).
The day we speak to Will and Guy they're officially releasing their first pieces of music - split singles Let's Move Back To Front and Never Leave.
"They're by no stretch of the imagination our poppiest songs. We want to write melodic songs with depth to them and some space," says Daunt, who describes the group's sound as "melancholic but dance-y".
Ambitions
Pinpointing their influences as Portishead, Caribou and TV On The Radio the result of their hard graft is akin to The Shins, Arcade Fire and The Killers.
This time last year they was talk of 2011 being the year that British guitar music made it's comeback, following a couple of years in the doldrums.
What would be lovely is if we released the album and it was well respected by public and industry alike
But breakthrough indie guitar bands were few and far between - the aforementioned Vaccines being one of them.
So, after seeing bands like Brother signing expensive recording deals and then disappearing have Zulu Winter adjusted their expectations?
"You want to avoid saying headlining the Other Stage at Glastonbury," says Daunt.
"Pyramid stage?" he laughs.
"No, what would be lovely is if we released the album and it was well respected by public and industry alike."
"We'd be foolish to say a la Brother - this time next year we'll be playing to thousands to people in Slough.
"No offence to Brother - but I don't want to set myself up for a fall."
Zulu Winter release their debut album in Spring 2012