Introducing… Fixers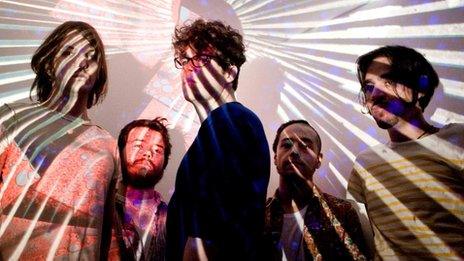 Often new artists will tell you recording a debut album is either fun or stressful.
It's not often a new band tells you they went "crazy" halfway through the process and that it left them with a financially-painful addiction to breakfast cereal.
But then Fixers aren't most bands. And Jack Goldstein isn't your normal frontman.
Twenty minutes spent in his company includes plenty of stories poking fun at himself, delivered with his dry sense of humour.
McCartney's beard
For example, before the birth of Fixers, Jack used to be in a noisy punk band from Oxford.
FIXERS, the facts
What: Atmospheric pop from Oxfordshire
For fans of: Animal Collective, Arcade Fire, Beach Boys
Download: Majesties Ranch
Live: Touring the UK in November and December
He said he only realised he wanted to do something more melodic when he started drawing pictures of Brian Wilson from the Beach Boys and Paul McCartney at different points in their careers.
"They're quite bad pictures," says Jack of the sketches. "This wasn't up to National Portrait Gallery standard."
That's where his obsession with the changing images of rock stars emerged - in particular the facial hair of Paul McCartney through the ages.
"It becomes really fascinating," he says. "He'd look really good with a beard now. It'd take years off him."
Cereal addiction
It's an interesting fixation.
That's why, for some reason, when Jack starts explaining some of the more extrovert practices the fivesome put themselves through while recording their debut album, we're not that surprised.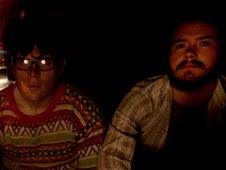 "About halfway through we'd gone nuts," he recalls.
"We'd wake up in the morning put a kaftan on, remove your shoes and put oil projectors on. We didn't have any lighting in the studio.
"It was ways of relaxing ourselves, ways of putting ourselves in the experience."
The only breaks he would take from their recording bunker in affluent north-west London were to venture out to fuel his 'addiction'.
"I'm going cold turkey at the moment so I don't want to go on about it for too long," he says with a wink.
"I learned that I'm kind of addicted to breakfast cereal.
I would have two boxes of cereal a day and wouldn't eat anything else
Jack Goldstein, from Fixers
"It's mostly muesli. When you're an addict money isn't an option. They had mueslis which were borderline £8.
"I would have two boxes of cereal a day and wouldn't eat anything else.
"You wake up one day and you're like, 'This morning, no more cereal.' Today, it's beans on toast."
Ambition
Now that studio time is behind them Jack - along with bandmates Roo, Michael, Christopher and Jason - are concentrating on touring until the album's release in April.
So, what are the band's ambitions?
"I'm a really superstitious person," says Jack.
"I get scared and freaked out if I start talking about stuff that's in the future.
"Just keep ticking on. I don't know, maybe give Paul McCartney some beard tips one day?"
Fixers' EP Imperial Goddess Of Mercy is out in December