Introducing... Lana Del Rey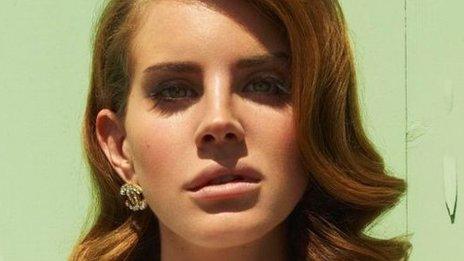 Buzz, heat, hype - call it whatever you want, right now Lana Del Rey has more of it than she knows what to do with.
Since premiering a clip of her debut single Video Games online earlier in the summer the cogs of hype machine have gone into overdrive.
The US singer, known on her passport as 24-year-old Lizzy Grant, sold out a string of gigs in medium-sized venues across the UK next month in a matter of minutes.
Clips of her debut UK TV performance on Later… with Jools Holland spread across the 'net like wild fire. Cheryl Cole's even been tweeting about her.
The buzz
It's hard to know what she makes of it all - namely because she hasn't done too many broadcast interviews to this point. And when she does she keeps her cards close to her chest.
"They're definitely talking - which is good," she told Radio 1's Zane Lowe, remaining guarded. "I'm having a good time and I'm enjoying making the record."
But her Mad Men-styled amber hair and sultry glare have led her to have been favourably compared to Florence & The Machine, Kate Bush and Amy Winehouse.
LANA DEL REY, the facts
What: Smouldering pop from across the Atlantic
For fans of: Florence & The Machine, Kate Bush, Birdy
Download: Video Games
Live: Touring the UK in November
Having grown up listening to everything from Elvis to Nirvana, Biggie Smalls to Eminem, at 18 she moved to Brooklyn, New York, to study metaphysics and performed on any stage which would have her.
It's taken some years, many gigs and long hours doing thankless jobs which have now seen her earn her break.
Video Games, a cold and sparse tale about being ignored in a relationship, seems to have done that unique thing - unite pop music lovers and pop music snobs. In other words, she's credible and cool.
In 2012 we'll certainly see much more of the singer. She's now signed to Polydor records, home to Ellie Goulding and Snow Patrol.
The debut album (likely to be titled Born To Die) will be released next year.
"I know every song that I want to be on the record. The cinematic, lush strings will still be there. It'll be dark and beautiful," she told Radio 1.
She's also dropped hints about some recent company she's been keeping.
Last week she admitted she's recorded a track with Blur and Gorillaz' Damon Albarn and Bobby Womack, the results of which we expect to hear soon.
"For real, something which happened really fast. They called me the other night. I came in the next day and we just worked on this one track they had in mind for me and I put down a chorus. For what it is, it's really beautiful."