Introducing… Morning Parade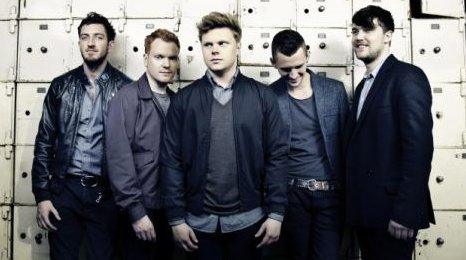 Most work 'away days' involve Post-it note games, stale sandwiches or, at their most exciting, an afternoon spent building rafts at a water sports centre.
"We did an away day and we ended up playing with Kylie Minogue, Tinie Tempah and Eliza Doolittle," says Morning Parade's lead singer Steve Sparrow casually.
"It was in small village in Somerset. The MD of our label lives down there and thought we'd do a crazy little gig in his local pub.
"Kylie said it was her first pub gig," he laughs. "It was probably about my 500th."
Albarn connection
Right now Essex epic-rockers Morning Parade are enjoying all manner of cool encounters courtesy of their signing to EMI's Parlophone.
Having formed three years ago after meeting at Harlow, Essex youth centre-cum-venue The Square they were signed to the home of Tinie Tempah and Coldplay last year.
"We regularly pinch ourselves," says Steve modestly.
It's a hook up that's already borne fruit. Namely the opportunity to record their debut album, due for release later this year, in Damon Albarn's studio.
Naturally there's been the odd water cooler moment with the Gorillaz/Blur man himself.
"He's always got something on his brain," says Steve. "He comes down to make coffee.
"He's been working on a lot of stuff at the moment so we leave him to it."
Future plans
As for what they've been up to. Morning Parade have concentrating on writing the best debut album possible.
"I never really got that scratchy indie guitar thing - it didn't do much for me," explains Steve, who cites Sigur Ros, Muse and Biffy Clyro as influence.
"It was the thing of four guys going in and making something which sounds 'huge'. It's more exciting.
"Sometimes people think it's a bit too big, a bit too epic, but it's what makes us tick."
As for right now, the quartet are shortly due to hit the road with The Wombats in Europe, but they're already looking forward to the rest of 2011.
"Getting our album out would be a good first step," says guitarist Chad Thomas.
"Being able to do this as a career. I love being in this band. Basically, I can't think of anything else which satisfies us as much."