Introducing… Alex Winston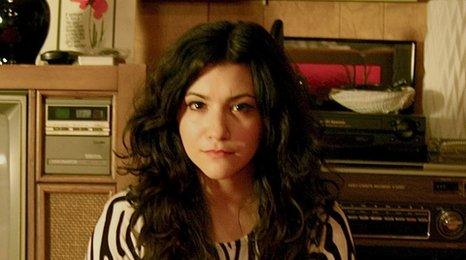 Ordinarily, shutting people out in the cold wouldn't be considered a positive thing.
But towards the end of 2010 Detroit-born singer Alex Winston arrived in London to play her first UK show.
So oversubscribed, it ended up leaving some eager A&Rs and fans locked outside shivering on the pavement unable to snatch a glimpse.
"Unfortunately some people weren't able to get in," she admits, coyly. "Next time we'll just have to do a bigger one."
Sister Wife
There's been a mad scramble for the signature of the 21-year-old since she was unearthed last year.
It's not difficult to see why - her debut mini album Sister Wife, out next month, being the main reason.
"I grew up in a musical household," she explains. "My dad is a musician.
"It was important to him that I started playing a musical instrument from a young age."
Therefore, aged seven, Winston unwrapped her first guitar.
"I didn't really start playing until I was about 10.
"He tried to force it on me, 'I was like, dad, I can barely read!' she laughs. "At 10 I started playing and singing opera at the same time."
Winston's 'voice'
And opera was key in Winston discovering the unique singing voice which is responsible for so much of the attention.
Part Joanna Newsom, part Ellie Goulding, her melodies sore high above the pop songs she makes (reminiscent of MGMT and Passion Pit).
I want to be a pop star. I want to have a minute in the sun. I really would like this to be my life
"It's usually very late at night when I write," she says. "I'll go out and come home and start working on something at one o'clock in the morning until six or seven. I'm a night owl."
With her debut mini album (produced by ultra hot production duo The Knocks) now ready for release her concentration has now turned towards playing live. It's quite a spectacle since her approach to her live band is more the merrier.
"I write the parts but I always want a lot of people with me on stage," explains Winston. "A big atmosphere, a big sound.
"I only like to work with friends and people I get along with well. I want to be like P-Funk. Everyone is in the band."
She's back in the UK in February playing gigs and expect to see her at this summer's festivals.
"I've wanted to be a musician and write songs my whole life so this has never been something where I want a massive single, I want to be a pop star with a massive single," she says.
"I really would like this to be my life. I'm looking to play venues, and have people there, for a long time."