Introducing… Cloud Control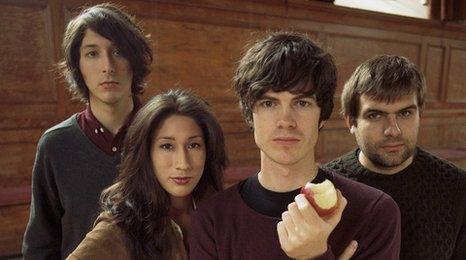 Australian lo-fi pop outfit Cloud Control have good taste. And not just in music.
"Italian food at its finest," says keyboardist Heidi Lenffer cooing over the meal the band had devoured earlier in the day.
"Five pieces of ravioli on a plate with no embellishment or adornment," she says visibly salivating. "Just a bit of Parmesan - it speaks for itself."
You see, by their own admission "food is pretty essential part of our band".
Debut album
Where do their culinary practices meet their soothing folky melodies?
Well, the "big cook-ups" which took place in the house where they recorded their debut album Bliss Release in the Blue Mountains, outside Sydney is a good start.
"We're all amateurs but we do appreciate our food," says Heidi, smiling.
"Great memories are made around food.
"It was a very homely setting. It's got a domestic vibe."
Without making them sound too much like a bunch of budding Jamie Olivers, Cloud Control to have other things on their plate.
Namely their attempt to break through in the UK and US following a stellar year in Australia in 2010.
'The start'
Five years ago Heidi decided she wanted to enter a university battle of the bands competition. Except she didn't have a band.
She hastily pulled together mates Ullrich [drums], Jeremy [bass] and Alister [guitar and vocals] to start writing songs.
We've all left our jobs recently. It's a giant leap of faith - hopefully we come up trumps
Alister Wright, Cloud Control
"None of us had written songs before and I'd never sung anything," recalls Alister. "We were completely fresh - we just came up with these songs.
"We won it the next year actually - the second time we entered."
Things have obviously hastily progressed. Last year the release of their debut album was met with critical acclaim.
"It's been great," says Alister. "As good of a reaction that we could have dreamed of. Lots of great press."
After stints supporting bands like The Temper Trap and Local Natives, their job, as they see it now, is to move to the UK in March and play as many gigs as physically possible.
"We've told our label here that we're going to work as hard as we can," says Alistair, looking to the year ahead.
"We've all left our jobs recently. It's a giant leap of faith - hopefully we come up trumps."
New single There's Nothing In The Water We Can't Fight is out 7 March