Bruno Mars number one in midweek singles chart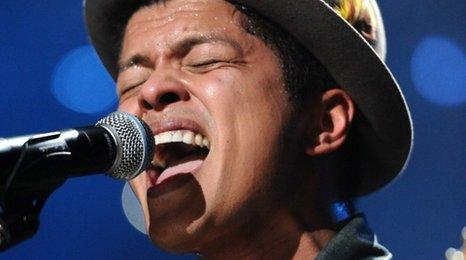 Bruno Mars is on course for his second number one single, according to the official midweek chart update.
Grenades, the second track off his debut album Doo-Wops & Hooligans, is outselling Jessie J's Do It Like A Dude and Rihanna song What's My Name - the current number one.
His track Just the Way You Are went to number one twice last year.
The other songs making up the top five are Lights On by Katy B and Adele's latest single Make You Feel My Love.
On the midweek album chart Adele's debut album is up to number five, despite being nearly three years old.
Meanwhile the top two albums are unchanged, with Rihanna at number one with Loud, and Plan B's record just behind.
Cee Lo Green's album The Lady Killer also climbs a place to three and Ellie Goulding's Lights is up four places to number four.