Introducing... Nero
Pendulum, Sub Focus, Chase And Status, Magnetic Man - production duo Nero are set to be 2011's next big dance breakthrough act.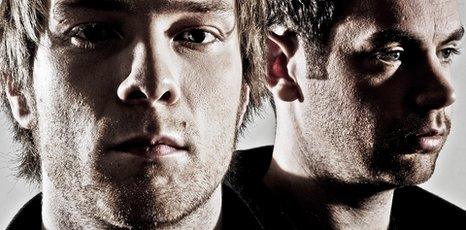 It's hard to pinpoint exactly when it happened but the release of Pendulum's debut album Hold Your Colour in 2005 is as good as any.
A crunching mix of metal, drum and bass and dubstep, which when transported to the live stage, recalled the heyday of 90s dance megastars The Prodigy it marked a return to giant, communal dance.
Of course, Keith Flint and co returned and reinstalled themselves in their thrown in recent years.
But, what happened in between was the upsurge from the underground of Chase & Status, Magnetic Man and Sub Focus. Both fist-in-the-air arena-slaying dance acts.
Me & You
London pairing Nero look odds on to be next in line to emerge.
Their new single Me & You, released on Chase & Status' imprint MTA, you may have already heard.
It's a thickly cut slice of booming bass set to soundtrack the gloomy earlier months of 2011 and beyond into festival season.
"It's one of the later tracks we wrote for the album," explains Dan on the phone. "We'd been listening to a lot of rocky stuff - Phoenix and Kings Of Leon.
"It's quite unique as a song on the album - nothing else sounds like that."
Dan and Joe originally met in 2000. In 2003 they decided to combine their creative forces.
"The first thing we did was pretty horrific. After that things got much better," he laughs.
"In the earlier days we were a lot slower with writing stuff. We were writing songs that were just cool and funny.
"I had a Dick Tracy book and we did a lot of sampling of that."
The whole theme is this retro-futuristic, 1980s vision of the future. Films like Blade Runner and artists like Vangelis
Come 2008 though and their sound morphed. Inspired by the explosion of UK dubstep they decided to "push their own boundaries".
"It's been a long road now but we've found our sound," he says.
Live plans
All the new attention could be daunting but mates like Chase & Status have been on hand with some guidance.
"They got in touch and said they were starting a label and asked if we were interested," says Dan.
"They said rather than putting out the odd single we want to build a family with a real sound. We bounce off each other really well."
With their debut album proper scheduled for late March they're now concentrating on creating a touring "spectacle".
"We're getting everything together now," he explains. "The whole theme is this retro-futuristic, 1980s vision of the future. Films like Blade Runner and artists like Vangelis.
"That'll be reflected in the live show. Standing in spaceship-style cockpits with dials and stuff like that.
"We're really into the way French acts like Daft Punk and Justice create a universe around yourself and your act. That's what we're keen to do."
New single Me & You is out this week