Introducing... The Naked And Famous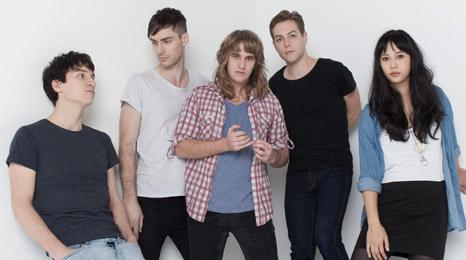 The Naked And Famous have already had a taste of success. And they liked it.
When they released their single Young Blood earlier this year it went straight to number one in New Zealand's official singles chart.
"We got a call from our manager saying, 'Come on into the city we're going to celebrate.'''
'''You guys are number one,'" says Alisa Xayalith, singer and keyboard player with the Auckland band.
"We had no idea what this meant because we'd never ventured into commercial territory before."
Home-grown
It not only meant they were the first home-grown artist to top the Kiwi chart in three years but also made a bunch of major label A&R men and women sit bolt upright before jumping on the next plane to NZ gripping their credit cards.
"It was pretty crazy," says Xayalith coyly. "It was just this big festivity of people telling you they liked you and they liked your music."
"We got an amazing analogue synthesiser as a gift - that was the coolest thing," she says, recalling the gifts they were showered in.
The band - Thom Powers, Aaron Short, Jesse Wood and David Beadle - who met at music school in 2007, were taken aback but signed with Universal.
The first track they'll officially be releasing in the UK is Punching In A Dream - a pop smash that's seen them likened to Passion Pit and MGMT.
"It's about feeling immobile - feeling paralysed in a situation that you don't want to be in," expands Xayalith.
"It's about having a horrible feeling about not being able to go anywhere. It's quite dark."
When they played their live debut UK shows earlier this month, they showed they're a different beast - a thundering milkshake of Queens Of The Stone Age, Arcade Fire and LCD Soundsystem.
Their debut album will be released here in March 2011.
"I like to think of it as something multi-dimensional showing all the different styles of music that we like," says Xayalith.
For the moment though it appears to be about keeping their feet on the ground.
"I've just been ignoring it every time someone says there's been a lot of hype," concludes the singer.
"I don't feel it at all. It doesn't change what we do. Hype and buzz just doesn't affect us."