Rockers Muse bring UK 'UFO' tour to a close at Wembley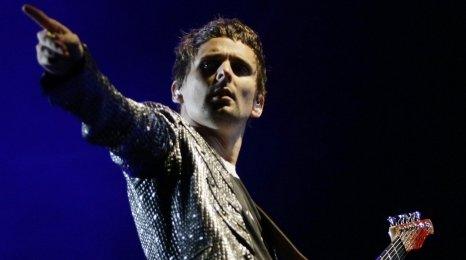 Muse have brought their UK tour, which featured a giant floating UFO, to a close with two shows at Wembley Stadium.
The Teignmouth trio performed in front of 150,000 fans across two nights in London (10 and 11 September).
With a set-design inspired by George Orwell's book 1984 the gigs boasted a purpose-built pyramid stage, psychedelic videos and a flying UFO balloon.
Finishing their set on the final night drummer Dom Howard said: "This is our last one for a while - see you all again for sure."
Wembley return
The gigs brought to an end a busy summer for Matt Bellamy's band after they headlined this year's Glastonbury, Oxegen and T in the Park festivals.
Having been the second act to play the new Wembley stadium in 2007 the group returned three years later to debut their intergalactic show.
Speaking to BBC 6 Music before the show bassist Chris Wolstenholme said: "Last time we did Wembley it was the first time we'd done a stadium so there were quite a few nerves.
"We maybe felt a little out of our depth. This time I think it'll be a much more comfortable performance."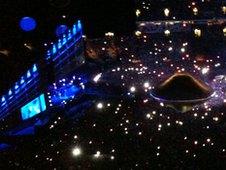 Their performance on Saturday saw them showcase numerous costume changes, an 'all-seeing-eye' video screen and a host of pyrotechnic explosions.
During a two hour set the band played a range of material from across their five albums including opener Uprising, plus tracks like New Born, Stockholm Syndrome, Time Is Running Out and Take A Bow.
A silver-foil inflatable UFO, with a gymnastic dancer attached, was paraded around the periphery of Wembley's pitch as they brought the show to a close with two encores featuring crowd-favourites Plug In Baby and Knights Of Cydonia.
Biffy's 'honour'
I Am Arrows, White Lies and Biffy Clyro provided support on the Saturday evening warming up fans on a showery evening.
Speaking before the gig Biffy Clyro's James Johnston said: "Unbelievably it's the second time we've played at Wembley Stadium with Muse - for them to ask us back is a real honour.
The Ayrshire trio played a brief but fearsome 40 minute warm-up set, which put the disappointment of not winning last week's Mercury Prize behind them.
After a short break Muse now head to north America to tour before completing 2010 with gigs in Australia before Christmas.