Introducing... Katy B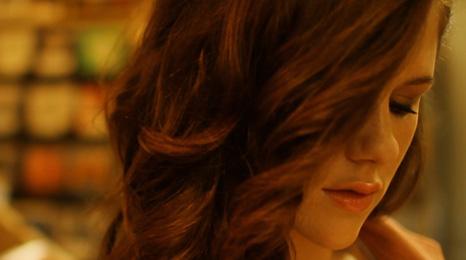 The Katy B we meet today sat on a plastic chair looks a little bit shell-shocked.
As well she might. It's been a summer of accelerated change for the 21-year-old singer.
Her track Katy On A Mission - a collaboration with producer Benga - has seen her in the UK top 10 for a fortnight now.
It's a track which has allowed the Londoner become tagged by some as the new 'female face' of dubstep.
'Overwhelmed'
Katy's one of the names playing BBC Radio 1Xtra Live at Wembley Arena on 25 September.
She is, to put it mildly, a bit "overwhelmed" by it all.
"It's really mad because when I recorded it I didn't think it would even have the chance of entering the top 40," she says nervously.
"It was just a dubstep track I was going to vocal. It's been a bit weird."
Indeed, this summer you couldn't walk past a bar in Ibiza without the track blaring from one of the huge soundsystems - likewise, it's been on Radio 1's playlist for nearly two months.
"It's definitely surprised me. I'm in shock," she says smiling, sat in a side room of east London radio station Rinse FM. It's a place, where as a teen, she first began meeting beat-makers and recording demos.
"It's not the typical dubstep tune - it's got a lot of melody and structure to it," she says.
"Lyrics wise… usually dubstep always makes me want to write about really dark things. It doesn't make me want to write about happy, love and dancing with my girls.
"This track didn't have that feel so I wanted to write about how it feels when you go into a club and there's so much energy in a room - basically putting that into words.
"It's about how I feel when I go raving with my friends."
Katy's roots
Whilst B might be a new name to a mainstream audience she's been working with UK underground grime, garage and house producers since she was 15 or 16.
"It doesn't bother me if people want to call it a dubstep song or call me a dubstep singer but I have done other stuff.
"People like to put stuff in boxes. There's nothing you can do about it.
"I started developing my style when I was about 13, 14, 15 when all I listened to was R&B.
Usually dubstep always makes me want to write about really dark things. It doesn't make me want to write about happy, love and dancing with my girls
"I just wanted to be able to sing like Destiny's Child. I learned all their songs. Then I got into the Ne-Yo soul stuff. Then I started raving and that's how it came about."
Whilst she's keen to stay true to her underground roots, Katy also wants to capitalise on her new-found opportunities.
There's a new single, a collaboration with Ms Dynamite set to arrive in November, and she also sings of dubstep 'supergroup' Magnetic Man's new single Perfect Stranger.
Essentially we're going to be hearing a lot more from her - including a debut album early next year. But what about her world-beating ambitions?
"I've never aspired to be…" she says tentatively, wrapping up.
"Like I said before, I didn't think my tune would get into the charts.
"This is what I do. This is my life. I come here [Rinse] on the weekends.
"I come here all the time to record my music. This is the music that I listen to. It's very important to me. Hopefully those worlds will come together."