Johnny Borrell and Diana Vickers in Oxjam launch gigs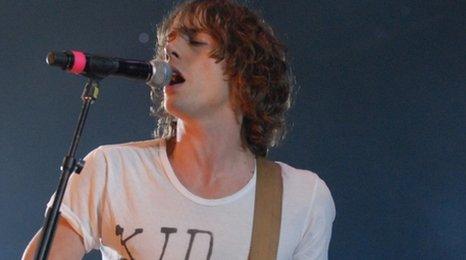 Johnny Borrell and Diana Vickers are set to play in a London charity shop as part of a series of gigs to launch a month-long festival.
Other acts confirmed so far include Gabriella Cilmi, The Charlatans, Tom Furse from The Horrors and dan le sac vs Scroobius Pip.
The intimate four-day series of gigs will take place in an as yet unannounced Oxfam store to kick off the charity's Oxjam music festival from 27 September.
Fewer than 200 tickets will be available each night and fans will be able to buy them online from today (2 September).
Old classics?
Razorlight frontman Johnny Borrell, who will play on 29 September, said he'd heard about the charity shows before and wanted to take part.
Oxfam music gigs
27 September - The Charlatans (plus special guest Tom Furse from The Horrors), dan le sac vs Scroobius Pip, plus more TBC.
28 September - Diana Vickers, Gabriella Cilmi, Pearl & The Puppets
29 September - Johnny Borrell, plus more TBC
30 September - Four Tet, plus more TBC
He told Newsbeat: "It seems like a really good thing and it seems like it's going to be a lot of fun.
"I've seen them do it before and I always thought it was a really cool thing."
He says he's back in the studio most days in London working on new material but isn't sure what his set list will consist of.
"At the moment I'm working on new songs and there's some really great stuff and we're excited about that so maybe we'll be doing that and probably some old classics," he said.
The Oxjam month of music runs throughout October and will feature 6,000 bands across 950 venues in a bid to raise money for Oxfam's charity appeal.
Faithless will also perform as part of the event on 1 October at the Coronet in London.
Artists who have performed at previous Oxfam shop gigs include The Kooks, Hot Chip, Jarvis Cocker and Editors.
Tickets for Oxjam go on sale at 9am on 2 September.