Introducing... Kassidy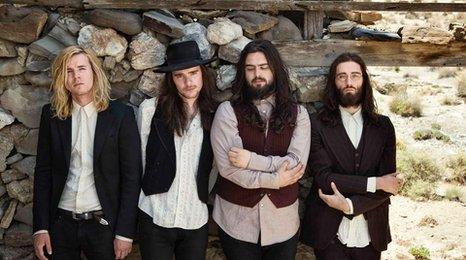 The year that folk broke.
That's how musical analysts might neatly summarise the current favour for slacker-rock in 2010.
Mumford & Sons have barn danced their way through every major British festival, Laura Marling has become a female anti-hero and, well, everyone's got a beard and a banjo.
All which makes the arrival of Glasgow's Kassidy very timely.
Pub 'friends'
They number four - Barry, Chris, Lewis and Hamish - and met through a mixture of friends' bands and fortuitive pub encounters.
"We were all the guys who were the serious ones about music in other bands," explains Hamish.
Officially branded as Kassidy in late 2008 they moved into a shared house in summer 2009 and began turning the old studio building into their atmospheric HQ.
"We can knock on each other's doors any time of day, any time of night," says Lewis.
"We like it because it's the real way to be in a band. All move in - get yourself in one place," says Hamish. "It's what should be."
Shared house
Indeed, they've made the most of it. Recording tracks in bedrooms, the hall, the kitchen, any spare spot they've got.
However unlike the entangled folk scene branching out from the south east, their native patch doesn't sound like it has the same camaraderie.
"The Glasgow music scene is a fairly hostile place," says Hamish. "Not many people support each other.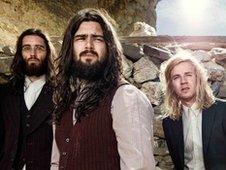 "If they do see any one of their peers - it could be their friends, it could be their family - doing anything they're not, it becomes terribly hostile and they turn against you.
"For quite a few bands we've known it's a kind of dog-eat-dog world. You have to get what you want to yourself."
Kassidy can't be accused of not doing that. They're releasing their second EP, The Rubbergum EP Volume 2, next week (16 August) to be followed by their debut album next year.
It's a harmonic adventure into a world of cowboy boots, burnt grasslands and scattered mountain clouds recalling the likes of Kings Of Leon and Band Of Horses. In other words, very un-Glasgow.
"I don't think it really matters who you're compared with," says Hamish.
"If it's pigeon-holed with Mumford And Sons and Fleet Foxes that's cool. If it's pigeon-holed with Seasick Steve and White Stripes, that's fine too."
"Ultimately," concludes Hamish, "the goal is to keep doing what we're doing and have fun doing it. I think it's whenever the fun leaves that people start to dislike what they've doing.
"We're enjoying every moment as we go."