Introducing… YG
Def Jam Records' first west coast signing in 15 years, the 19-year-old tattooed rapper has been christened king of a whole new dance movement.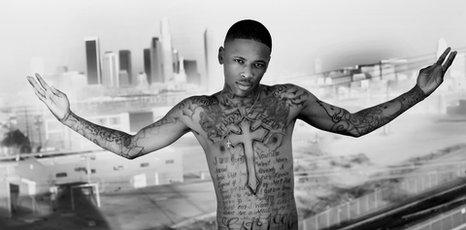 Fair to say, when Newsbeat New Music speaks to most new artists they're not on the set of a movie they're starring in with 50 Cent and Diddy's son.
Californian rapper YG is a little bit different.
In the last couple of years he's risen from making his first ever rhymes responding to someone who "dissed" him on MySpace to picking up acting roles in major films.
In the middle of that huge step the 19-year-old has become the first west coast signing in 15 years for Def Jam - the label that's home to Rihanna, Kanye West and Ne-Yo.
"It's a big job but I don't feel pressure. I just got to work," says YG confidently. "I'm trying to be one of the top artists on Def Jam."
Toot it
It's all down to one song. Laid-back summer jam Toot It And Boot It is currently a mainstay on Californian radio.
YG wrote the song in his bedroom a year-and-a-half ago. Quickly it left the streets and the block parties and found the ears of Max Gousse from Def Jam.
He was summoned in front of Grammy award-winning record producer and label boss L.A Reid.
"That experience was crazy," says YG. "I was fresh out of jail.
"They flew me out there, put me in a five-star hotel, I was like, 'This is crazy'.
"I did my thing in front of L.A. Reid - we had a party in the office."
Jerkin' movement
Reid liked what he heard.
Since YG's music has reached more people he's somehow been christened the originator of LA's Jerkin' movement - a style of dancing that's transformed parts of the hip hop scene.
We'll let YG explain: "Jerkin' is like a dance thing that's going on out here. I don't jerk but I make music that the jerkers jerk too.
"I'm not a jerk artist but I do make jerk songs."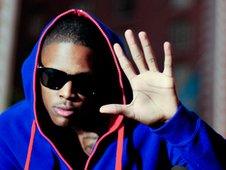 If you search for Jerkin' on YouTube you'll find all sorts of videos showcasing the street dance craze.
It was through the style that Def Jam's Gousse discovered the rapper.
"I was working on a Jerkin' compilation," he says. "When I met YG he stood out from all the other artists."
'Real big'
Since YG put pen to paper on a contract Toot It And Boot It has opened some significant doors for the heavily tattooed rapper.
Not only is he acting in Mario Van Peebles latest movie, he's also been approached to play Tupac in an upcoming biopic of the legendary rapper's life called Third Life.
"That's real big," he mulls. "That's just like perfect - that's going to help whatever I'm doing.
"Nothing out there is bigger than that. It's like, 'Tupac, what?'"
His immediate attention though is on his debut album, Fresh On Campus, due out this winter.
He's already collaborated with Lil Wayne and caught the attention of Ty.
Right now, YG's diary is looking promisingly full.