KT Tunstall criticises sexy music videos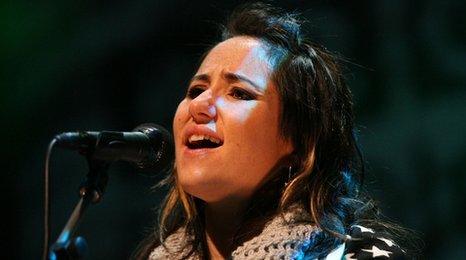 KT Tunstall has hit out at singers who use sex to promote their music.
The songwriter and singer told the Daily Record that she was shocked after seeing Shakira's video for She Wolf.
She said: "You've got little girls watching some pretty X-rated stuff.
"The Shakira video actually shocked me and I am not easily shocked. I was like, 'You are shoving your lady bits in my face. I didn't ask for that'.
"It is shocking but it seems they need to shock to get attention."
The 35-year-old singer, whose third album Tiger Suit is due out in September, insisted she wouldn't ever succumb to the temptation to use her body to sell her music.
'No price to strip'
She added: "It is not something I want to be a part of. I am not a model.
"I'm a girl who can sing and play guitar. If I wasn't singing and playing guitar, I wouldn't be on the cover of a magazine.
"There's no price for me to strip off - it's not worth it. It's about mystery. Mystery is missing from music and the more you can preserve that, the better it is for the fans."
KT's platinum-selling debut album Eye To The Telescope was released in 2004, and the follow-up Drastic Fantastic came out three years later.
She says her latest record Tiger Suit is named after a recurring dream "amongst other things".
KT embarks on a series of gigs called The Troika Tour around the Scottish islands from 3-9 August.
The Suddenly I See singer married her band's drummer Luke Bullen back in 2008.
Tiger Suit is released on 27 September.