'Gender identity disorder sufferers need better care'
Psychiatrists have told Newsbeat that young people with gender identity disorder need better treatment.
Sufferers with the disorder are unhappy being the gender they are born as.
Dr Victoria Holt is from the Tavistock and Portman NHS Foundation Trust Gender Identity Clinic.
She told Newsbeat: "They [people with the disorder] shouldn't be told that it's just a phase - come back in a few years.
"We, I think, are hopefully going to be doing more work with GPs in the long run so they can feel more knowledgeable about the area and also more supportive."
There are concerns some young people are buying hormones online to try and change their sex themselves.
Dr Holt added: "Buying hormones from the internet might feel like a quick fix but it's not helpful, it can be unsafe, you don't know what you're actually purchasing. The prescription of hormones should be done by a professional."
This week Hollyoaks introduces a new character called Jasmine who has gender identity disorder.
We'll see the 15-year-old dress as a boy, called Jason, and even have an on-screen kiss with a female who doesn't know she's really a girl.
'Opening eyes'
The role is played by Victoria Atkin, 23, who's never starred in a TV drama before.
The actress didn't know about GID before the role so she was introduced to Benson Bell, a 17-year-old transgender teenager from Cumbria.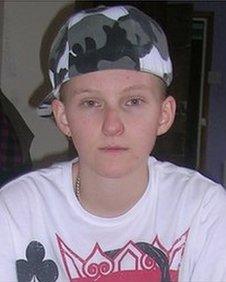 He's been coaching her on her role and giving her advice.
She says it's a challenge but she's happy not to play the typical glamorous roles of Hollyoaks.
She hopes it will open a lot of eyes and help young people going through GID themselves.
Ben visits the Tavistock and Portman NHS Clinic in London which has a gender identity disorder department for under 18s.
He is not old enough to be on hormone blockers but as soon as he is 18 he's decided he will start taking them.
They will stop him from having periods and developing breasts. He will then receive testosterone and hopes to go on to have a full sex change.
His family are not over the moon about it but they are coming to terms with it.
'Understanding difference'
He says so many young people watch Hollyoaks so he knows more people will know about GID and it will hopefully change the views of some more "narrow minded people".
Series producer Paul Marquess told Newsbeat that the Hollyoaks team have put a lot of research into getting the storyline right.
He said: "I was sitting thinking about what would be a great Hollyoaks story and what is the sort of story that Hollyoaks could tell in a way that no other show could.
"It's just about understanding difference, understanding diversity. Just because someone's different from you it doesn't mean that's a problem or you can't get on with them."
He said feedback on the storyline had already been good: "I think young people are much more open-minded than older people.
"The reaction to it has been so positive already. It's amazing actually."
GID affects around one in 4,000 people in the UK.
The Tavistock and Portman Clinic is the only clinic in the UK to work with children as young as four.
They say they've seen a steady increase in the number of young people being referred each year.