Details of 100m Facebook users published online
The personal details of more than 100 million Facebook users have been published on the internet.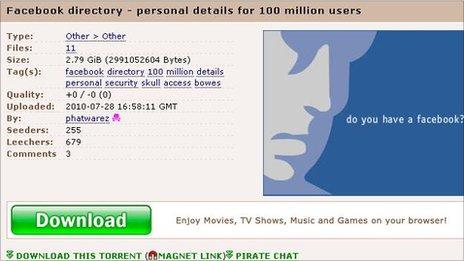 The list was put together by a security consultant who said he did it to highlight privacy issues.
Ron Bowles used a piece of code to scan people's Facebook profiles and collected information that wasn't hidden by the user's privacy settings.
The downloadable file has already spread across the internet and has the URL of every searchable Facebook user's profile, their name and unique ID. It's easy to find on sites like Pirate Bay.
'Freely available'
Facebook says the information was freely available anyway through search engines and its own site.
Newsbeat on Facebook: Tell us your thoughts about staying private online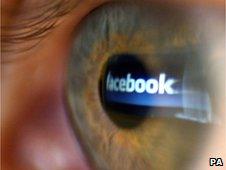 It said in a statement: "People who use Facebook own their information and have the right to share only what they want, with whom they want, and when they want.
"In this case, information that people have agreed to make public was collected by a single researcher and already exists in Google, Bing, other search engines, as well as on Facebook.
"No private data is available or has been compromised."
Some security experts have criticised Facebook, saying they should have been more prepared for something like this.
'Angry and concerned'
Simon Davies from watchdog Privacy International said: "Facebook should have anticipated this attack and put measures in place to prevent it.
"There are going to be a lot of angry and concerned people right now who will be wondering who has their data and what they should do.
"People did not understand the privacy settings and this is the result."
Earlier this year Facebook was heavily criticised by users for the site's overly-complicated privacy controls and as a result simpler settings were put in place.
Currently there's a default setting on Facebook which makes some information publicly available and users have to actively opt out.
A spokesman for Facebook said: "It is similar to the white pages of the phone book, this is the information available to enable people to find each other, which is the reason people join Facebook."