Tom Cruise and Cameron Diaz try to unmask The Stig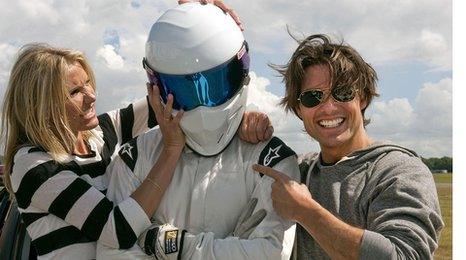 Hollywood stars Tom Cruise and Cameron Diaz have appeared on the BBC's Top Gear show.
The A-listers took on the 'Star in a reasonably priced car' challenge and each drove a Kia cee'd around the famous test track.
Cameron Diaz also gave 'The Stig' a run for his money, trying to remove his helmet between laps.
It was after the mysterious test driver had to come to Diaz's aid when she had problems with the car's gearbox mid-way around the track.
Speed freak
Cruise and Diaz were in the UK for the premiere of their action flick, Knight and Day, held in London's Leicester Square on Thursday evening (22 July).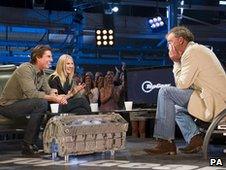 Explaining his appearance on the show Cruise said: "I like fast cars and motorcycles. I've always loved them since I was a kid."
Diaz was tempted to spill the beans about who was fastest but said she had to keep the result a secret.
"We did timed laps," said the 37-year-old actress. "It's very exciting - we know the score and we want to tell everybody, but we can't because we want them to watch the show."
Mission Impossible star Cruise, 48, also played real life hero during the studio segment by going to help an audience member who fainted.
The two stars can be seen trying their luck on the test track this Sunday on BBC Two at 8pm.