Libertines confirm festivals warm-up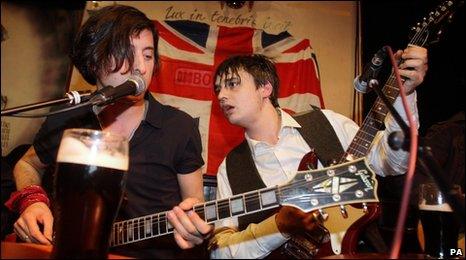 The Libertines will warm-up for their appearances at Reading and Leeds festivals with an intimate London gig, and revealed they haven't played together since reforming in March.
The foursome will play at the Forum before a pair of high-profile festival gigs over the August bank holiday weekend.
In March, Pete, Carl, Gary and John held a press conference in a north London pub and played their first gig in six years, but say they haven't rehearsed since.
Speaking to Newsbeat lead singer Carl Barat said: "It's always a bit last minute with The Libertines. If we did it any other way it wouldn't be The Libertines."
'Last minute'
A date for the warm-up gig, their first public show since splitting in 2004 has yet to be confirmed.
But they'll spend a number of days rehearsing at the venue before playing the show.
"We've got a bit of time blocked out," he confirmed. "As I say it's a bit last minute - it always is. Of course we'll be able to do it and we'll be able to do it with aplomb."
Barat, who was appearing at the launch of the Six Shooters photography exhibition at London's Proud Gallery, said his nerves are now calming ahead of their biggest ever gigs.
"Obviously, it's always nerve-wracking," said Barat. "But again that's all part of what it is to be in that band.
"Overall I'm excited, and that's starting to come through a lot more now. It started off as pure nerves. Now I'm starting to look forward to it."
As for the band's plans beyond their slots at the Reading and Leeds festivals Barat was remaining tight-lipped.
"We'll have to wait to see, hey?"