Young drivers are least likely to have insurance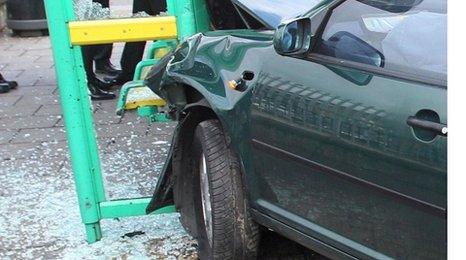 There's been a 20% drop in the number of people driving without insurance in the UK but one-and-a-half million are still on the roads without cover.
The Motor Insurers' Bureau (MIB) says young drivers are the least likely to be insured with new figures suggesting the problem is worse in Britain than any country in Western Europe.
The MIB says one in five uninsured drivers is aged between 17 and 20.
That means there are 300,000 people in that age group breaking the law when they get behind the wheel.
MIB chief executive Ashton West told Newsbeat: "We've made significant progress and seen a 20% reduction but we've still got a pretty embarrassing record in the UK and there's a lot more that we need to do to rid the country of this problem.
"Young drivers present a higher risk so they end up paying more.
"The cost of insurance is higher, therefore some of them see that as beyond what they're prepared to pay and they take the risk."
Damage
Earlier this week the AA reported the cost of an average car insurance premium went up by more than 10% in the last three months.
Third party cover, which tends to be more popular among young people, went up by even more.
Newsbeat spoke to 24-year-old Kieron Ayres from Bedford, who crashed into an uninsured driver.
It took him and his passengers a year to claim back thousands of pounds for damage to his car and their injuries.
"I was driving down a long straight road," he said. "The guy just decided he wanted to pull out of a side road and I went straight into the side of the car.
"Luckily I'd seen that he was there and I'd managed to slow down so that the damage wasn't as bad as it could have been.
"He acted as though everything was fine and said he was insured.
"I took all his details and he told me he'd call back with his insurance details.
"I called a mate and asked him to check online to find out whether he was insured and it turned out he wasn't.
"Things started going through my mind that I would have to pay everything and it got quite nerve-wracking. I didn't really know what to do."
'Vehicle taken'
Kieron was able to make a claim to the MIB, which is paid for by insurance companies.
The cost of this adds about £30 per year to the average premium.
You will get caught. You'll have your vehicle taken from you and you'll have to pay £150 to get it back
Ashton West
Motor Insurers' Bureau
Kieron doesn't think there's any excuse not to be insured.
"If I saw him again I think I'd have stern words with him," he said.
"Insurance doesn't cost a huge amount of money if you pay monthly and he just couldn't be bothered."
Ashton West from the MIB thinks many people don't understand why their insurance can cost up to three times as much as their car is worth.
But he said: "You're buying insurance because it's covering the cost of causing damage or injuries to other people and you're just as likely to do that in a £500 car as you are in a £50,000 car.
"You will get caught. You'll have your vehicle taken from you and you'll have to pay £150 to get it back.
"You'll get a £200 fine and six points on your licence, which can have severe implications if you're in your first year of driving."