Introducing...Delorean
Positive about Spain's melting music industry and obsessed with Formula 1, the sun-kissed beats of this Barcelona-based foursome have set hearts racing.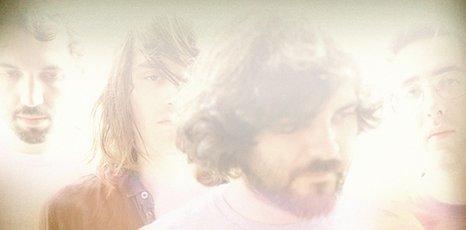 It's fair to say Spanish football is in a better place right now than their music industry.
In January, the IFPI, who speak for many of the world's record labels, claimed the country could risk becoming a "cultural desert" if it didn't take action against rampant illegal downloading. They said it was destroying opportunities for Spanish talent.
Barcelona-based sunrise-pop foursome Delorean are musing what it means for them and their musical friends.
"I have been reading a lot about how the Spanish illegal downloading is very spread out," says lead singer Ekhi Lopetegi. "The labels are not having the best time.
"At the same time, when it comes to promoting shows it is one of the best times.
"People have free access to the music, you can reach people and they'll come see your show. The shows are bigger; there are more festivals and better conditions for the bands."
Decade career
Ekhi and his bandmates (guitarist Tomas Palomo, keyboardist Unai Lazcano, and drummer Igor Escudeo) are certainly looking on the bright side.
And they have good reason to. Their most recent album Subiza has gained positive global press, earning them gigs with Miike Snow and a world tour.
But it's by no means their first. The foursome, who hail from a small Basque town in the north of Spain, started out as a hardcore-punk band nearly 10 years ago.
"We started Delorean as a pop band to try to new things and leave behind our hardcore background," says Igor.
Indeed, Delorean, as they are today, are far from fist-pummeling punk-rock. Instead, a sun-tanned mix of Animal Collective's muted-rave, Balearic dance, disco, house and indie.
Countryside album
For the recording of Subiza they abandoned the wilting heat of the city and headed to the countryside town of the same name where their producer Hans Kruger has a studio.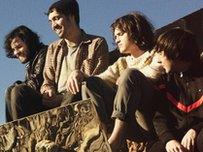 "We spent a month-and-a-half hanging out with his family, having BBQs, playing ping pong, swimming pool and recording," says Igor. "We named it Subiza to pay them tribute.
"This album for us is the first serious album we've done," chips in Ekhi. "The first one where we tried hard to make a good album."
When they're not being so serious, they run their own club night in Barcelona ("We discovered dubstep, grime, UK funky, UK rave," says Ekhi) and obsessing over F1 motor racing.
The predecessor to Subiza was an EP called Ayrton Senna - after the Brazilian racing driver.
"We are huge F1 fans," smiles Igor. "When we were recording the EP we were obsessed by Ayton Senna and his point of view for life.
"If you check his Wikipedia you'll get loads of interesting phrases."
Like one of Senna's famous mottos, "the danger sensation is exciting. The challenge is to find new dangers", Delorean's unknown adventure appears to just be starting.