Justin Bieber beats Lady Gaga YouTube record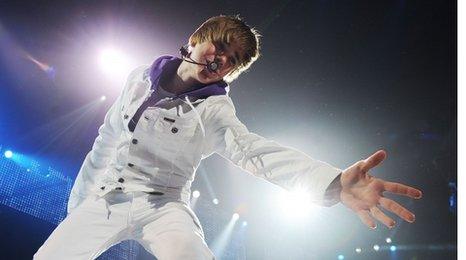 Teen singer Justin Bieber has overtaken Lady Gaga to have the most viewed music video on YouTube.
The 16-year-old's song Baby has been watched more than 250 million times, pushing Lady Gaga's Bad Romance into second place with 247.4 million (19 July).
The singer thanked his 3.8 million fans on Twitter saying "it doesn't matter who has more views, what matters is that we have incredible fans that support us".
Justin Bieber was signed two years ago after posting his videos on YouTube.
He's on tour in the United States to promote his album My World 2.0 and also paid tribute to his rival calling Lady Gaga "an incredible artist who [I] have great respect for. And her video is incredible".
He continued to fans on Twitter: "Sometimes the pressure is a lot but I feel so blessed living my dream and I remind myself to be thankful and appreciative.
"Thank you all for caring. Just want you to know I care too and I'm just a normal kid. Thanks."
Bieber wrote the track Baby with R&B singer Christina Milian and rapper Ludacris.
Lady Gaga, 24, is in the middle of her Monster Ball tour and recently became the first living person to have more than 10 million fans on Facebook.