Pink injured after stage accident in Germany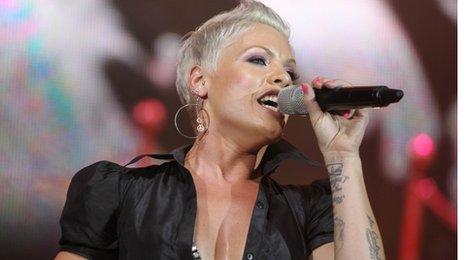 US singer Pink has told fans on Twitter that she's fine after an accident while performing on stage in Germany.
The star was taken to hospital after she wasn't clipped into a harness properly and hit a barricade during one of her routines.
She later updated fans saying, "nothing's broken, no fluid in the lungs, just seriously sore."
Pink is currently on the European leg of her Funhouse Summer Carnival World Tour and played in the UK last month.
Video posted on YouTube shows the singer being strapped in a harness by two of her backing singers before her final song, So What.
She's then thrown forward off a walkway in front of the stage and into steel crowd barriers.
The harness was meant to lift her above the crowd in Nuremberg so she could perform an acrobatic routine.
One of her backing singers is also seen falling sideways off the same walkway.
The Funhouse Summer Carnival World Tour is in support of Pink's fifth studio album, Funhouse, which was released at the end of 2008.