Katy Perry's album 'inspired' by partner Russell Brand
Katy Perry says her fiance Russell Brand has had a big impact on the direction of her second album, Teenage Dream.
Half of the tracks were recorded before the singer met the comedian, but she says their relationship has impacted on many of the songs since then.
Speaking to Newsbeat Perry said: "There are some songs on the album inspired by love. There's a song called Hummingbird Heartbeat. He gives me that Hummingbird Heartbeat."
Songs on the album, due for release on 24 August, include Peacock, Pearl, Firework, Not Like The Movies and previous UK number one single California Gurls.
'Firework'
Perry admits she wrote the lyrics to new track Firework after Brand showed her a passage in the Jack Kerouac novel On The Road.
"It was a paragraph that he said I was like," she says. "In the book he was talking about how he wanted to be around people who were buzzing, fizzing and making people go 'Argh, like fireworks across the sky'.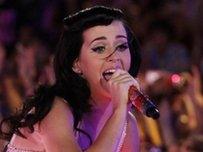 "I guess that's my whole vibe. I want to make people go 'Argh' in so many different ways. I want to be a living firework."
Another track, Not Like The Movies, was finished as Perry's relationship with Brand blossomed at the end of 2009.
"I finished it with him in mind knowing that it is like the movies. He's in films and stuff so it made sense.
"Sometimes you're in a situation where it feels like this is the best you can get. I really do believe in true love and you should really find it."
As with her debut, the I Kissed A Girl singer's teamed up with a number of producers to record the new album.
Contributors include writing duo Dr Luke and Max Martin, Greg Wells, Tricky Stewart and Danish partnership Stargate.
"When I finished California Gurls, Peacock and Firework it was like 'Buckle up - it's time to go'. Time to wake up and be a pop star again."