McFly launch new 'urban' direction with Taio Cruz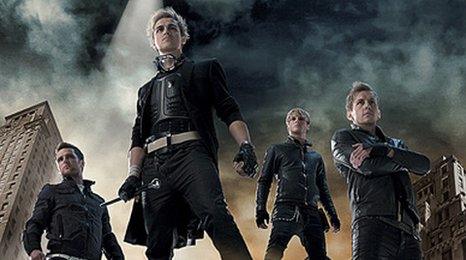 Think of McFly and chances are you'll remember their shiny-guitar-pop, gelled-up hair and the enthusiastic teens who squealed at their every note.
Well, times have changed.
Two years on from spitting from their record company Island and releasing their fourth album Radio:Active the London foursome have taken a brave new step - a total musical makeover and brand new business plan.
Cruz collaboration
Most startling to fans will be the change in their music.
For their forthcoming new album they've enlisted the help of producer Dallas Austin who has previously worked with Madonna, Michael Jackson and Pink.
But then there's also British urban sensation Taio Cruz - the man who scored a number one hit in America and the UK with Break Your Heart and helped write both JLS and Cheryl Cole's most recent releases.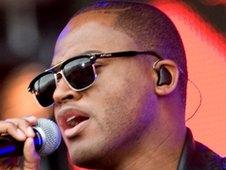 Out has gone Dougie, Harry, Tom and Danny's sugary brand of emo-pop. With the aid of these new producers, in comes a synth-driven sultry R&B direction.
New single Party Girl, released in September, is a sexy slab of pop which includes the lyrics: "I'm chained up/I give up/I'm out of mercy/she wouldn't let me go".
Lead singer Tom Fletcher admits it might take a few fans by surprise: "It was a real experiment working with people like Dallas and Taio Cruz - that's what they bring to the table.
"It was about where we could collide and meet in the middle. I wouldn't class it as urban at all, but it's still definitely pop."
'Our' money
If fans don't like this new experiment it's not just the band's egos which will be bruised. It could also empty their pockets.
After the band separated with their record company Island in 2008, they've now set up an independent company to look after the pennies, but struck a deal with their old record label (Island, again) to split all profits 50/50.
It's an all-encompassing deal - touring, record sales, merchandise, sponsorship, everything except publishing - which sees the band/management and record company divvy up money equally.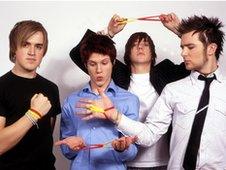 Speaking to Newsbeat, McFly's manager Matthew Fletcher said: "When you go independent, as exciting as it is, our resources are limited.
"We were forced into going independent because to be quite honest the record company ran out of ideas.
"Physical album sales are in decline and I think they just became quite narrow-minded. We had an opportunity to leave, so we did.
"I said to band, 'The worst thing that could happen with this relationship is that you can make half as much money'."
'Taking risks'
The band themselves have sunk their hard-earned cash into launching this "joint venture" pinning their hopes on what they're dubbing a "supersite" launched in October.
It's a subscription-based website aimed at enticing fans to spend money on the band via different means all hosted online.
Fans will have the chance to get new music first, accrue points for rewards and interact with their favourite members.
"You have to take risks," said drummer Harry Judd. "We're willing to do that to take this band to the next stage. If everything is split equally they've got the same interest that we have."
New single Party Girl is out on 5 September. The album is out in November.