Muse 'sell soul' to appear on Twilight soundtrack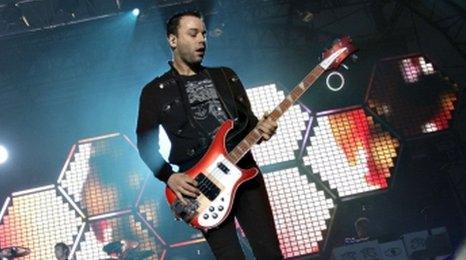 Muse have appeared on all three soundtracks to the Twilight films but Chris Wolstenholme from the band has likened it to "selling your soul".
The bassist told Newsbeat: "I'm not sure how cool it is to be on those kind of things but sometimes you've just got to get your music out there in different ways."
With the films breaking box office records Chris admits it has meant a big boost for the band Stateside: "It's very difficult in America because you don't have anything like Radio 1, nothing is national.
"You have to take every opportunity you get over there and sometimes you have to sell your soul."
Twilight writer Stephenie Meyer is a big fan of the band and she has admitted that Muse inspired her writing.
'Don't care'
Chris watched the first film which he "quite enjoyed" but admits it's not his "cup of tea" and hasn't watched any of the others.
The touring schedules are so crazy that just the thought of another album is just not even there at the moment
Chris Wolstenholme from Muse
He admits there was a bit of confusion over how their track Neutron Star Collision would appear in Eclipse.
He said: "When we were in the studio writing it, one minute they said they wanted to use it in the end credits, then they said they wanted to use it in another scene.
"Then it was another scene and in the end we were like, 'Do what you want with it, we don't care any more'."
'Starting again'
Chris tells Newsbeat they are happy that things are finally paying off for them in the States: "It's going great over there.
"Early this year we started playing in arenas so it was great to finally take over the full production that we toured with in Europe.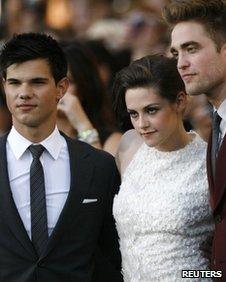 "For a long time America fell by the wayside and nothing was really happening at all and we were having problems with our record company over there."
The band didn't start touring in the States until their album Absolution came out.
Chris says the band enjoyed playing smaller venues again: "It was great fun because it was like starting all over again and it was an exciting feeling."
The band are heading back to the States at the end of the year and if you're hoping for another album soon don't hold your breath.
"The touring schedules are so crazy that just the thought of another album is just not even there at the moment," he said.
"I'm sure Matt has plenty of ideas but physically trying to get together and work on stuff is just not possible on tour.
"The few days off we do have we like to go home or go somewhere and chill out. We prefer to keep the two things separate and not try and think too much about recording when we're touring."
Chris says they have no plans for future movie soundtracks: "Matt's been offered a few movie scores but the touring is so heavy and that would mean taking a few months off, not being able to tour.
"I can't see there will be too much of that going on until we slow down on our touring."
And the band aren't going to slow down any time soon: "I think while you're young and fit enough to tour, you need to take advantage and do it for as long as you can.
"There's plenty of time later in life to do that kind of stuff."